'The Hunger Games: Catching Fire' Quarter Quell Posters: Meet The Victors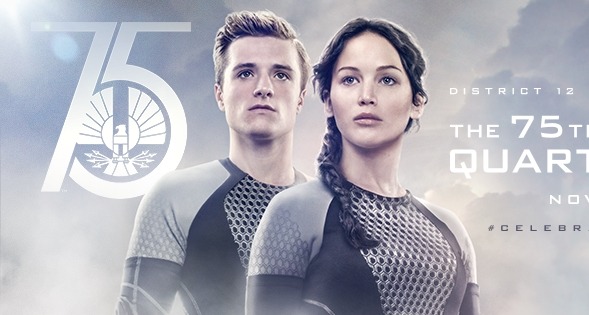 The new trailer for The Hunger Games: Catching Fire will hit this week during Comic-Con, but first Lionsgate would like you to get to know some of the new characters. A new series of posters for the 75th annual Games, known as the Quarter Quell, reveals some of the other former victors that Katniss (Jennifer Lawrence) and Peeta (Josh Hutcherson) will face in the sequel. Check 'em out after the jump.
Citizens of Panem: Every quarter century, The Capitol honors the anniversary of its victory over the Districts with a special edition of the Games. This year—for the first time in history—your favorite victors will return as tributes. As usual, all residents are required by Capitol law to watch the Games. Insubordination will not be tolerated.
And here's the rest of the gang.
[via LAT Hero Complex, Moviefone, MTV, Empire, MSN, and Yahoo]
In order, that's Stephanie Leigh Schlund as Cashmere (Distrct 1), Alan Ritchson as Gloss (District 1), Bruno Gunn as Brutus (District 2), Meta Golding as Enobaria (District 2), Jeffrey Wright as Beetee (District 3), Amanda Plummer as Wiress (District 3), Sam Claflin as Finnick (District 4), Lynn Cohen as Mags (District 4), Jena Malone as Johanna (District 7), and of course Lawrence and Hutcherson as Katniss and Peeta (District 12).
The sprawling cast also includes Liam Hemsworth, Woody Harrelson, Elizabeth Banks, Stanley Tucci, Lenny Kravitz, Philip Seymour Hoffman, and Donald Sutherland. Directed by Francis Lawrence, The Hunger Games: Catching Fire opens November 22.
THE HUNGER GAMES: CATCHING FIRE begins as Katniss Everdeen has returned home safe after winning the 74th Annual Hunger Games along with fellow tribute Peeta Mellark. Winning means that they must turn around and leave their family and close friends, embarking on a "Victor's Tour" of the districts. Along the way Katniss senses that a rebellion is simmering, but the Capitol is still very much in control as President Snow prepares the 75th Annual Hunger Games (The Quarter Quell) – a competition that could change Panem forever.