'How To Train Your Dragon 2' Teaser Trailer: Hiccup Has A New Trick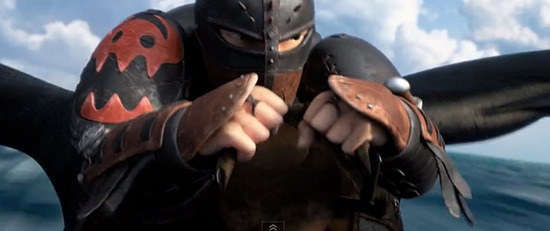 This teaser trailer for How to Train Your Dragon 2 is pretty great, because it doesn't skimp on footage, but it also doesn't barrage us with a rapid-cut montage. Instead, this is one long sequence that makes for an ideal teaser — it will remind those who saw the first film of the pleasures it contained, while also promising something new. And for those who haven't seen the first film, this just offers a great look at the animation that will be seen when the film hits screens in just under a year.
So here we see Hiccup (Jay Baruchel) and his dragon Toothless exploring the outlying areas far from their home village... and then Hiccup does something a little different. Check it out below.
How To Train Your Dragon 2 opens on June 20, 2014. See another new image from the film here. Trailer via Empire.
The thrilling second chapter of the epic How To Train Your Dragon trilogy brings back the fantastical world of Hiccup and Toothless five years later. While Astrid, Snoutlout and the rest of the gang are challenging each other to dragon races (the island's new favorite contact sport), the now inseparable pair journey through the skies, charting unmapped territories and exploring new worlds. When one of their adventures leads to the discovery of a secret ice cave that is home to hundreds of new wild dragons and the mysterious Dragon Rider, the two friends find themselves at the center of a battle to protect the peace.