Alan Moore's 'The League Of Extraordinary Gentlemen' Set Up As Fox TV Pilot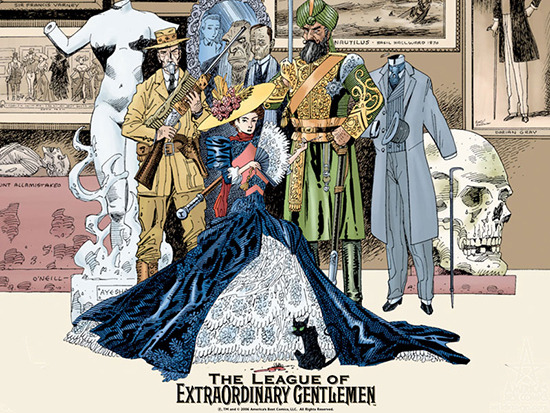 The film version of Alan Moore's pulp/literary team-up comic series The League of Extraordinary Gentlemen was notable for being only the second of Moore's comics to hit the big screen, and unfortunately famous for being Sean Connery's last live-action feature role. It's a pretty lousy piece of work, that film, that is mostly infamous for being crappy. Now there might be a way to move beyond it.
The comic series is rising to new life as a TV show — or it is taking the first step towards doing so, at least. Michael Green (The River, Heroes, Smallville) will serve as writer and executive producer on a pilot based on the comic, and if the show is picked up to series he'll serve as show runner as well.
THR reports on the put pilot commitment at Fox for the TV adaptation. The trade also says the show is described as "a drama based on Moore's graphic novels about a group of Victorian age literary characters, including Captain Nemo, the Invisible Man, Dr. Jekyll and Mr. Hyde who team up to fight a common enemy."
We've got no info about specific stories or casting, but rest assured we'll bring you those details when possible. Don't expect Moore to speak up much on this one, but no doubt he'll have many questions lobbed his way.
The bar is set pretty low with respect to adapting this comic series, but in all seriousness there is a rich wealth of character and story potential here. There's a good series to make out of both Moore's series and the books that inspired it, and we hope that Green and Fox's effort steps up with more ingenuity than the film managed to bring to bear.