'Breaking Bad' Anchors TV-Heavy Comic-Con 2013 Sunday Schedule; 'Doctor Who' And 'Community' Also Appearing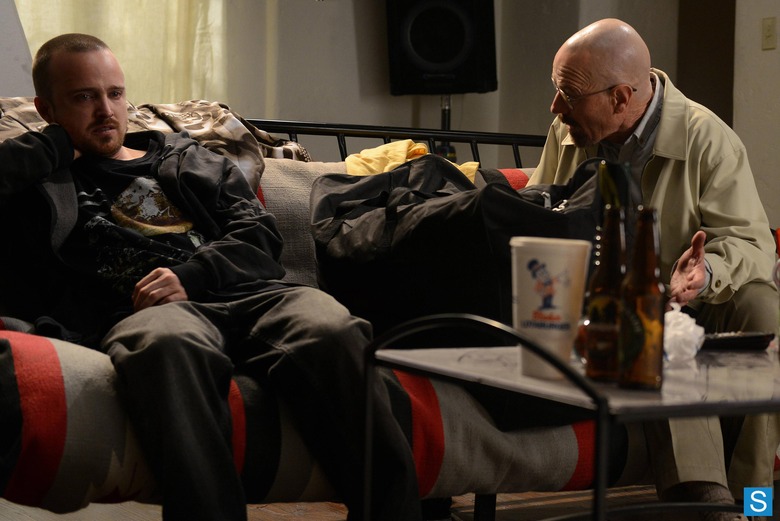 Continuing the new tradition of San Diego Comic-Con, on the final day the movie studios move out and the TV shows move in. Even though 2013 sees several major TV shows with panels earlier in the convention, the Sunday schedule has the bulk of the TV panels. The big one is Breaking Bad, which will make its final appearance at the convention on the eve of the series finale. There's also a 50th anniversary panel on Doctor Who, Community, Supernatural, Sons of Anarchy, Under the Dome, It's Always Sunny in Philadelphia and more.
Check out some highlights below.
To check out the full Sunday Comic-Con 2013 schedule, click here. For the previous three days, click here.  Below are some of the bigger panels.
Supernatural Special Video Presentation and Q&A
Series stars Jared Padalecki (Friday the 13th [2009]), Jensen Ackles (My Bloody Valentine 3D), Misha Collins (Ringer), and Mark A. Sheppard (Battlestar Galactica), along with executive producer Jeremy Carver (U.S. version of Being Human) return to Hall H to answer questions from the audience about what's in store for the ninth season of this exciting series. Fans will also be treated to an exclusive video presentation featuring series highlights, as well as a portion of the special features from the upcoming Supernatural: The Complete Eighth Season DVD and Blu-ray release, in stores September 10. The ninth season of Supernatural will premiere this fall in its new Tuesday nighttime period at 9/8c on The CW. The series is produced by Wonderland Sound and Vision in association with Warner Bros. Television.
Sunday July 21, 2013 10:00am – 11:00am Hall H
Breaking Bad
AMC's Breaking Bad creator and executive producer Vince Gilligan appears with the cast of Breaking Bad, including Bryan Cranston, Aaron Paul, Anna Gunn, Dean Norris, Betsy Brandt, R. J. Mitte, and Bob Odenkirk. In a panel moderated by Chris Hardwick, Vince and the cast talk about what it was like to shoot the final episodes of one of the boldest and most intense dramas on television and how they are preparing for the series' final moments. Join the panelists for a one-on-one Q&A session and an official sneak preview of the final eight episodes of Breaking Bad season 5, premiering Sunday night, August 11 at 9:00.
Sunday July 21, 2013 11:15am – 12:15pm Hall H
BBC America's Doctor Who 50th Anniversary
BBC America presents the Doctor Who 50th Anniversary panel featuring Doctor Who stars Matt Smith and Jenna Coleman, award-winning lead writer and executive producer Steven Moffat, An Adventure in Space and Time star David Bradley, and award-winning writer/executive producer Mark Gatiss. The Doctor Who 50th Anniversary Special will premiere November 23, on BBC America. As part of the celebrations in November, An Adventure in Space and Time will tell the story of the genesis of Doctor Who, with David Bradley starring as the first ever Doctor, William Hartnell.
Sunday July 21, 2013 12:30pm – 1:30pm Hall H
Community: Celebrating the Fans
Community is back at Comic-Con, and the show is making its Hall H debut to celebrate the devoted Community fandom! Currently confirmed are cast members Gillian Jacobs, Danny Pudi, Yvette Nicole Brown, Alison Brie, Jim Rash, and Ken Jeong, plus executive producers Dan Harmon and Chris McKenna and co-executive producer Andy Bobrow, moderated by Chris Hardwick (The Nerdist). Be a part of the study group for a panel and Q&A, and you'll find out firsthand what surprises are in store for the Sony Pictures Television's comedy series when it returns to NBC for its fifth season. Community launches in broadcast syndication and on Comedy Central this September.
Sunday July 21, 2013 1:50pm – 2:45pm Hall H
Beware the Batman Screening and Q&A
The Dark Knight makes his return to television in this new action-packed CG animated series. A cool new take on the classic franchise, Beware the Batman incorporates Batman's core characters with a rogues' gallery of new villains not previously seen in animated form. With backup from ex-secret agent Alfred and lethal swordstress Katana, the Dark Knight faces the twisted machinations of Gotham City's criminal underworld, led by the likes of Anarky, Professor Pyg, Mister Toad, and Magpie. After screening a new episode, producers Glen Murakami (Teen Titans) and Mitch Watson (Scooby-Doo! Mystery Incorporated) and others will take attendees into the shadows of Gotham City for a lively discussion on the adventures that await Batman this season. From Warner Bros. Animation, Beware the Batman airs Saturday mornings at 10:00 ET/PT on Cartoon Network.
Sunday July 21, 2013 1:00pm – 2:00pm Room 6BCF
Under the Dome
Stars Dean Norris (Breaking Bad), Mike Vogel (Bates Motel), and Rachelle Lefevre (Twilight), along with executive producers Brian K. Vaughan (Lost), Neal Bear (Law and Order: SVU), and Jack Bender (Lost), invite you to go under the dome as they discuss the television event of the summer about a small town inexplicably sealed off from the rest of the world by an invisible and indestructible dome. Based on Stephen King's bestselling novel, the series follows "Big Jim" (Norris), the only elected official left under the dome whose abiding love for the town may be surpassed only by his desire for power; Dale "Barbie" Barbara (Vogel), an army veteran with a mysterious past; and "Julia Shumway" (Lefevre), the editor of the local newspaper who is coping with the disappearance of her husband, among other residents who are all struggling to uncover the mystery of the dome that has descended upon their town. They must come together to find ways to survive and work to ultimately rebuild their democracy from the ground up, while facing postapocalyptic situations. Follow them on this journey under the dome, where no one can hide and no one's secret is safe.
Sunday July 21, 2013 2:15pm – 3:15pm Room 6BCF
It's Always Sunny in Philadelphia: Screening and Q&A
The Gang returns to Paddy's Pub with Mac (Rob McElhenney), Dennis (Glenn Howerton), Charlie (Charlie Day), Dee (Kaitlin Olson), and Frank (Danny DeVito). It's Always Sunny in Philadelphia was created by McElhenney and is executive produced by McElhenney, Day, Howerton, Michael Rotenberg, Nick Frenkel, Tom Lofaro, Rob Rosell, Scott Marder, and David Hornsby. The show is produced by FX Productions.
Sunday July 21, 2013 3:00pm – 3:50pm Hall H
Sons of Anarchy
Get an inside look into the world of FX's highest-rated series ever, with creator Kurt Sutter (The Shield), executive producer/director Paris Barclay (NYPD Blue), and the full cast: Charlie Hunnam, Katey Sagal, Ron Perlman, Maggie Siff, Kim Coates, Mark Boone Junior, Tommy Flanagan, Theo Rossi, Dayton Callie, and Jimmy Smits.
Sunday July 21, 2013 3:50pm – 4:40pm Hall H