'An American Mystery,' A Whodunit Film About O.J. Simpson Murder Trial, Will Present New Facts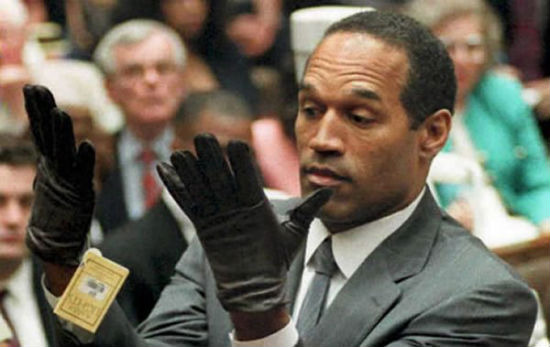 The murder trial of O.J. Simpson was one of the most surreal and talked-about events of the '90s, and one of the most heavily-reported criminal trials ever mounted in the US. A constant media frenzy surrounded the Hall of Fame football player accused of murdering his wife Nicole Brown Simpson and her friend Ron Goldman. Simpson fled from police in a white Bronco driven by a friend, and went to trial in late 1994. He was acquitted of the charges months later, after a trial featuring spirited, soundbite-heavy defense from Simpson's team, and dialogue about LAPD racism.
It's a story so wild not even Hollywood has touched it. But the Simpson trial might soon get the big screen treatment.
British filmmaker Joshua Newton is prepping An American Mystery, a $65 million independent thriller about the Simpson case. He recently cast actress Charlotte Kirk as Nicole Brown Simpson, and reportedly has new facts that will present multiple new suspects. From there, the film will be structured in a way that leaves the truth of the matter up to the audience. They're aiming at a 2014 release, so the film could arrive almost exactly 20 years after the horrible crime.
The Wrap broke the news of this project, saying several former professional athletes and politicians are among the investors for the film.
Newton (whose first feature, Justice/Vengeance starring the late Roy Scheider, should be released later this year) claims O.J. Simpson himself asked to be a part of the film. He was denied, because they're hoping the film can be presented objectively. Here's a quote:
'An American Mystery' has the capacity to challenge entrenched attitudes on a topic that has inspired visceral reactions for almost a generation. While we are creating an artistic work, the essence of the film is the search for truth. It was easy to determine that OJ's participation is not consistent with our standards. Our goal is to lay bare the facts and have the audience reach their own conclusions.
The film has the potential to ignite a powder keg of controversy. No one was ever convicted for the crimes, so if Newton truly has has uncovered some new evidence, this is a potential Paradise Lost/West of Memphis deal where the film could move into reality. (Simpson was found liable for damages in a civil suit.)
Until facts around the film get a little more concrete, it's impossible to gauge what effect it will have. The fact this movie exists at all is incredibly interesting, however. Read more at The Wrap and give us your feelings below.