Fifth 'Terminator' Kicks Off Rebooted, Stand Alone Trilogy On June 26, 2015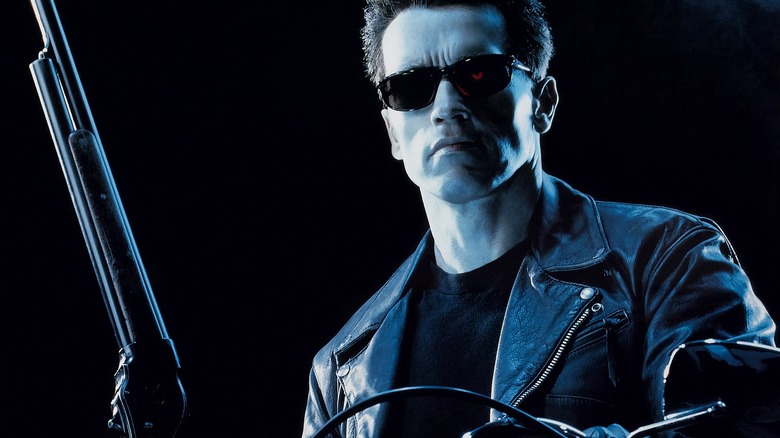 Paramount, Skydance and Annapurna Pictures have just announced that Terminator 5, potentially starring Arnold Schwarzenegger, will be released June 26, 2015. It's being framed as the first film in a new trilogy.
The press release refers to the film as a "reboot" and says the trilogy will "stand alone" from the first four films. That suggests, unlike what we'd heard in the past, this new film won't be in the same timeline as the James Cameron classics, or the less classic Jonathan Mostow and McG films.
No director is yet attached, but Laeta Kalorgridis and Patrick Lussier are writing the screenplay.
Here's the press release from Deadline:
Skydance Productions, Annapurna Pictures and Paramount Pictures have jointly announced they will partner on a rebooted "TERMINATOR" movie, to be released by Paramount Pictures on June 26, 2015.
The first in a stand-alone trilogy, "TERMINATOR" will be produced by Megan Ellison of Annapurna and David Ellison of Skydance. Dana Goldberg and Paul Schwake of Skydance will serve as executive producers. Laeta Kalorgridis ("Avatar," "Shutter Island") and Patrick Lussier ("Drive Angry") are attached to write the screenplay.
Launched in 1984 with star Arnold Schwarzenegger as the title character, "TERMINATOR" spanned 3 subsequent films, which have earned over $1 billion at the worldwide box office.
David Ellison most recently executive produced, along with his partners at Paramount, "World War Z," "Star Trek Into Darkness," "G.I. Joe: Retaliation" and "Mission: Impossible – Ghost Protocol". A 5th installment of in the "Mission: Impossible" franchise is in active development, along with a 3rd film in the "G.I. Joe" franchise, among other films.
Megan Ellison most recently produced the Academy Award®-nominated "Zero Dark Thirty," "The Master" and executive produced "Spring Breakers" via her Annapurna Pictures banner and has David O. Russell's "American Hustle," Spike Jonze's "Her," and Bennett Miller's "Foxcatcher" set for release later this year.
Also of note in that press release is the absence of Schwarzenegger's name in relation to this new film. That likely means he simply hasn't signed yet, but if this really is a total reboot, maybe they're looking create a new icon instead of relying on an old one. It's unlikely, but possible.
Either way, would audiences really want to see not one, but three, new Terminator movies without some connection to the T-800, John Connor, Sarah Connor and Kyle Reese? That largely depends on the director chosen, the actors cast and how far they go with these new films. But, if Schwarzenegger is the star, how are they going to reboot what already happened in the other films? My guess is the obvious one. Some kind of time travel in the vein of J.J. Abrams' Star Trek films that preserves the original canon, but also sets off a whole new timeline.
Lots to digest here and we're only at the beginning of the story. What are your thoughts on this new Terminator?