First 'World's End' Featurette Gives 5-Minute History Of The Cornetto Trilogy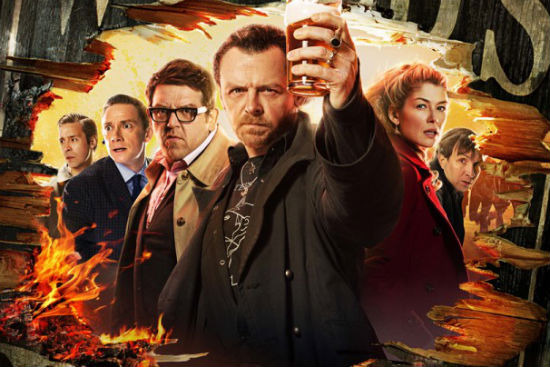 Unless you're a huge fan of Shaun of the Dead and Hot Fuzz, understanding just how The World's End could be considered the third film in a trilogy that began with those two movies could be a bit confusing. The three films have the same director (Edgar Wright), the same writing team (Wright and Simon Pegg), and the same lead actors (Pegg and Nick Frost), though each features different characters and different genres. Story-wise, it would be like if Dawn of the Dead, Bad Boys and Invasion of the Body Snatchers were somehow a trilogy.
The first featurette for The World's End does a great job of explaining how the three films are all part of The Three Flavors Cornetto Trilogy, a trilogy linked by tone, humor, a love of cinema and ice cream. The video below explains it all, and includes plenty of new footage.
Thanks to IGN for the awesome 5-minute video.
The World's End, which also stars Paddy Considine, Martin Freeman, Eddie Marsan and Rosamund Pike, opens August 23 in the US. Here's the official plot description:
The tale of The World's End begins on June 22nd, 1990. In their suburban U.K. town of Newton Haven, five boys in the prime of their teenage youth celebrate the end of school by attempting an epic pub crawl together. Despite their enthusiasm and the downing of a slew of pints of beer, they fall short of seeing their quest through, to the last pub on their list, The World's End.
Twenty-odd years later, "the five musketeers" have each left their hometown and are now husbands, fathers, men with careers – with the flashing-red-light exception of their voluble onetime ringleader, Gary King (Simon Pegg), who is now a 40-year-old man trapped at the cigarette end of his teens. The irrepressible Gary, keenly aware of his estrangement from his onetime closest friend Andy (Nick Frost), becomes hellbent on trying "The Golden Mile" drinking marathon again. He convinces Andy, Steven (Paddy Considine), Oliver (Martin Freeman), and Peter (Eddie Marsan) to stage an encore, and one Friday afternoon they are all reunited. Gary is in his element: the mandate is one night, five guys, twelve pubs – imbibing at least one pint apiece at each establishment. Arriving in Newton Haven, they re-encounter Oliver's sister Sam (Rosamund Pike), for whom Gary and Steven each still carry a torch.
As the gang attempts along the way to reconcile their past and present, an increasingly insane and dangerous series of encounters with old haunts and acquaintances makes them realize that the real struggle is for the future, not just theirs but humankind's. Reaching The World's End is the least of their worries...