'The Smurfs 2' Trailer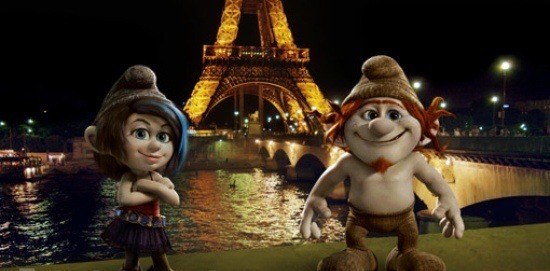 If you were looking for a "debutante falls in with kids from the wrong side of the tracks" movie for seven year-olds this summer, The Smurfs 2 is probably it. The film once again features Hank Azaria as the Smurf-hating Gargamel and Neil Patrick Harris as the human who befriends the little blue guys. This first trailer lays out a plot where Gargamel creates some fake Smurfs as part of some inane plan, then kidnaps Smurfette to try to turn his fake Smurfs into real ones.
Don't try to make too much sense out of it; the idea basically seems to be to create a framework for butt jokes that kids will love, with maybe a little room for some moralizing. Ardent Azaria and Harris fans, and those who need to figure out if they'll want to take their kids to The Smurfs 2, may be the only ones who should give this one more than a passing glance. Check it out below.
The Smurfs 2 opens on July 31. Yahoo has the trailer.
The evil wizard Gargamel creates a couple of mischievous Smurf-like creatures called the Naughties that he hopes will let him harness the all-powerful, magical Smurf-essence. But when he discovers that only a real Smurf can give him what he wants – and only a secret spell that Smurfette knows can turn the Naughties into real Smurfs – Gargamel kidnaps Smurfette and brings her to Paris, where he has been winning the adoration of millions as the world's greatest sorcerer. It's up to Papa, Clumsy, Grouchy and Vanity to return to our world, reunite with their human friends Patrick and Grace Winslow, and rescue her! Will Smurfette, who has always felt different from the other Smurfs, find a new connection with the Naughties Vexi and Hackus – or will the Smurfs convince her that their love for her is True Blue?