Rumor: 'Star Wars Land' Coming To Walt Disney World In 2018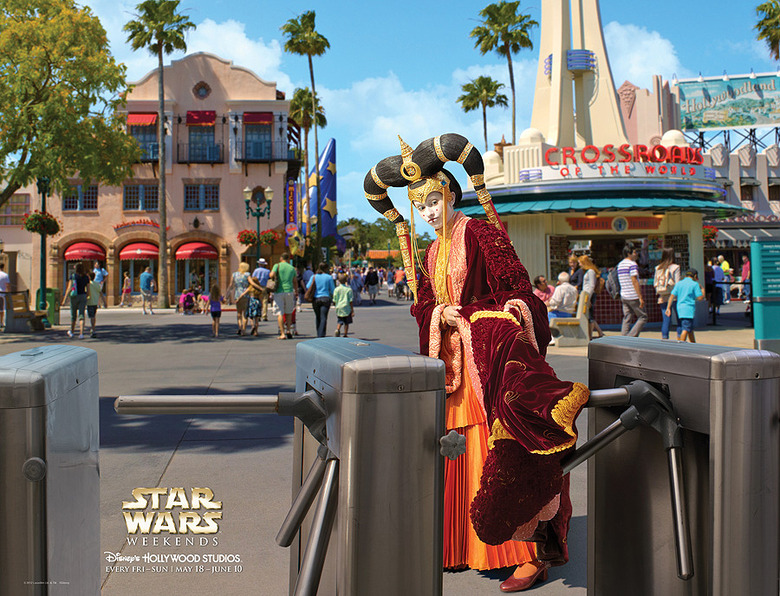 A new rumor is circulating saying that Walt Disney World's Hollywood Studios in Orlando, Florida is planning a major expansion in the next five years. That expansion would include an east coast Cars Land and – wait for it – the first ever Star Wars Land. The report comes from Theme Park Insider, which cites "multiple insider sources." Now, whether or not this rumor is true right now, it's something that will happen eventually. Disney didn't buy Lucasfilm for $4 billion just to make a J.J. Abrams movie, some cartoons and video games. They want long lasting revenue, and Star Wars Land would do just that. 
The rumor was first reported by Theme Park Insider and independently corroborated by TheForce.net. Head to that first link to read where specifically they've heard both Cars Land and Star Wars Land will be built in the park (hint: near Star Tours) along with a few other details.
What we do know is earlier this year Disney was surveying fans about this exact thing. That's a fact. So this isn't a new rumor. Disney's California Adventure was recently thought to be getting something similar and, last year, Disneyland Paris was the park of the day. Of course, Hollywood Studios is the home of Star Wars Weekends, which doesn't make it immune to similar speculation either.
I tend to take reports like this with a grain of salt. I'd bet my family that George Kalogridis, the president of the Florida Walt Disney World Resort, has had a conversation about Star Wars. There's no way he hasn't. The question is, has he officially approved money be spent to design, plan, break ground and build something for people to visit in the next five years? The report above says "Yes," but no one will comment on record. Maybe we'll hear more at the D23 Expo in August. Either way, even if this rumor isn't 100% true, odds are someone reputable heard a legitimate conversation and leaked the information.
We'll obviously be following this very closely as it combines three things we love here at /Film: Star Wars, Disney and Theme Parks. But, for now, what would you like to see at a Disney Star Wars Land? Is just one section of a park not enough? Would this make you want to take the trip to Florida?
What would a possible Star Wars theme park look like? Check out this link.