Cool Stuff: Mondo 'Man Of Steel' Prints From Ken Taylor And Martin Ansin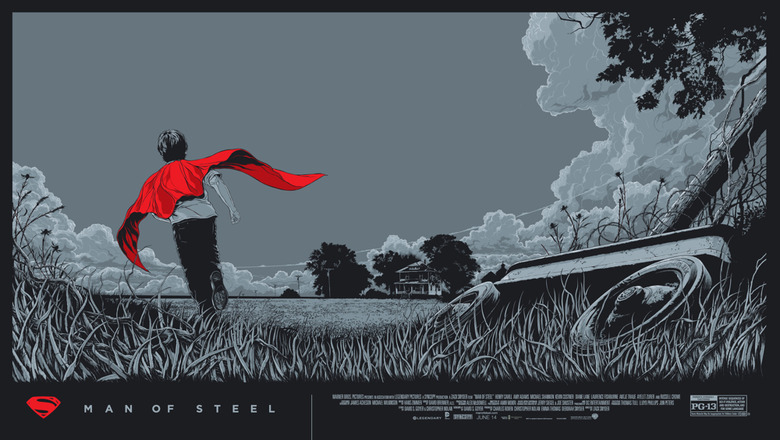 Most of Mondo's poster releases are designed as strict limited edition runs. Last year, however, the company did a print for The Dark Knight Rises which was slightly less limited. The poster was made available through a "timed release," where enough prints will be made to cover orders that come in during a specific time frame.
Mondo's second timed release is going to be a Man of Steel print by Martin Ansin, which will be available for 72 hours beginning this Thursday night at midnight. (IE, in the first minute of Friday morning, CST.) There will be more severely limited versions of the Ansin print, and also one by Ken Taylor, seen above. All details are below. 
Here are the posters.
First up in the gallery are the two versions of the poster by Ken Taylor. That one goes on sale Thursday, June 13th at a random time at www.mondotees.com; follow Mondo on Twitter for the on sale announcement. Here's the info:
Dimensions: 24" x 36"Edition: 300 (Regular) ; 150 (Variant)Price: $50 (Regular) ; $75 (Variant)
Then there's the Martin Ansin piece. The regular version of this one is the timed release, hence the TBD edition number below. The limited metal version goes on sale Friday July 14.
Dimensions: 24" x 36"
Edition: Regular edition TBD ; 100 (Metal Variant)
Price: $50 (Regular) ; $300 (Variant)
Mondo explains the timed release. Hit that link for more info.
We will put the poster on sale for 3 days. We will start the sale at 12:01AM CST on Friday, June 14th and the sale will be open until 12:01AM on Monday, June 17th. No purchasing limits. No sold out tweets. You will have a full 72 hours (3 days) to buy this. The edition will be determined by how many are sold in that amount of time. After that, the edition will be closed, printed and never reprinted again. We will let you guys know via Twitter on Monday what it came out to.