'Insidious Chapter 2' Poster; Director James Wan Talks Influences And Time Travel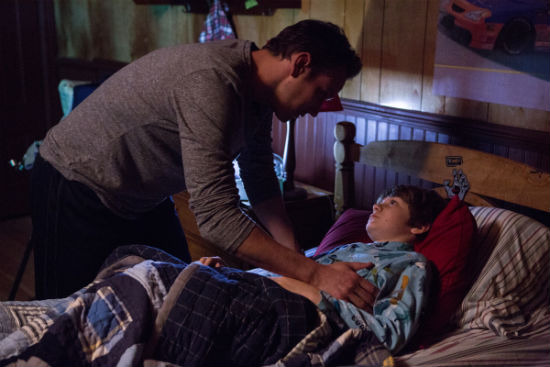 So we're at this haunted hospital and James Wan says Insidious Chapter 2 will include time travel. It's a mind-bending piece of information that potentially changes the whole nature of the upcoming sequel.
But taking a cue from that nugget, let's jump ahead in time to today as a new teaser poster has been revealed for the horror sequel, which opens on Friday the 13th of September. The poster features a small child ominously in the middle of a room with the tagline "It Will Take What You Love Most." Chilling.
Patrick Wilson, Barbara Hershey, Rose Byrne, Ty Simpkins and the rest of the cast return for Insidious Chapter 2, which picks up immediately where the 2010 hit left off. A trailer was released last week and, as part of that reveal, I was ushered to the haunted Linda Vista Community Hospital in Los Angeles to check it out. That's where Wan talked about time travel and a few other pieces of information regarding the sequel. So check out the poster and read what he had to say below.
First, here's the poster thanks to Yahoo.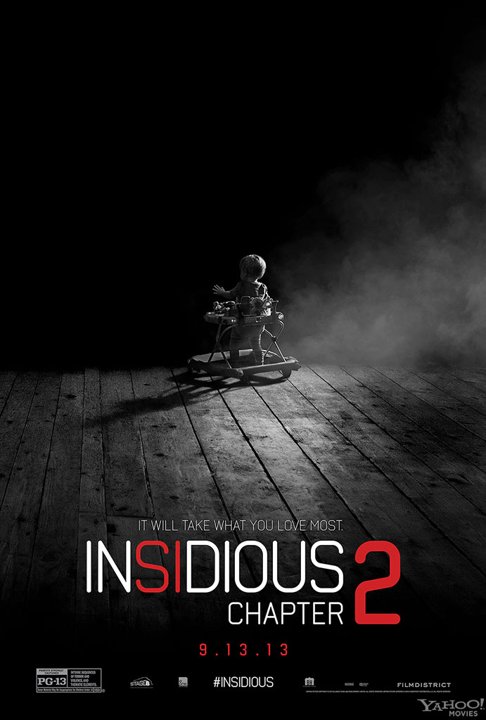 Back to the hospital, where films such as A Nightmare on Elm Street, Outbreak, Pearl Harbor and Insidious Chapter 2 all filmed. It's an incredible creepy place with a very off-putting vibe in basically every room. That even carried over to the chapel, where director James Wan held a livestream reveal of the trailer.
"Whereas the first movie has a twist on the classic haunted house genre, the second one is a slightly different movie and so it has a twist on a different sub-genre," Wan explained. "It's more in the vein of like a domestic thriller, but with a pervasive supernatural undertone, which is kind of what The Shining is in some ways."
Like that Kubrick film, Wan said Insidious Chapter 2 will be filed with practical effects, many of which are influenced by late nights walking around his house.
"When I was designing some of the scares for Insidious and my previous scary movie that I shot, one of the things I would do is literally walk through my house late at night with all the lights out and think up these really trippy, creepy scenarios and if I get really creeped out then I know it's working," he said.
Now, the biggest revelation about the film (besides the fact that it'll answer questions "hopefully not in the way you expect,") is that Insidious Chapter 2 will somehow use time travel. Here's Wan:
Even though Insidious 2 is a sequel, I think people are going to see a lot of elements they haven't seen in a horror movie before. Without giving too much away, Insidious 2 deals a little bit with elements of time travel.
Here's the question. Wan also revealed the film has flashbacks to the days of Josh (Patrick Wilson) as a young boy when he was haunted by an old woman. This is how Lin Shaye's character returns. So is Wan confusing flashbacks with time travel? Do the characters actually travel back in time to see how these characters began their long history of hauntings? Or is it something totally different?
We should find out on September 13 when Insidious Chapter 2 is released.