'Filth' Trailer: James McAvoy Is A Deranged Pervert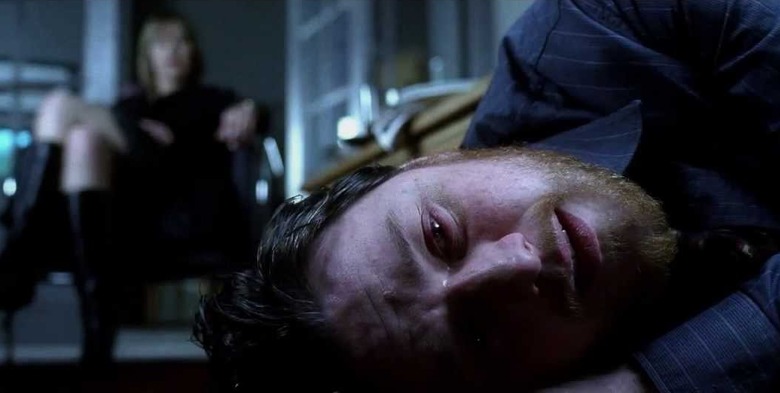 We've still got a few years to go before Danny Boyle gets around to that Trainspotting sequel, but in the meantime Jon S. Baird's Filth should tide us over nicely.
Also adapted from an Irvine Welsh novel, the dark comedy stars James McAvoy as bad cop Bruce Robertson. And I mean bad: Bruce is corrupt, violent, drug-addicted, and just plain mean. He'll happily stomp all over his own colleagues on his way to the top. Ultimately, though, he becomes his own biggest threat when his sanity starts to slip. Jamie Bell, Eddie Marsan, Imogen Poots, and Jim Broadbent also star. Watch the NSFW trailer after the jump.
The new trailer features the same frantic energy that the last one did, but it's longer and therefore manages to cram in even more nastiness. Just watching that trailer makes me feel like I'm on drugs, so hats off to you, Mr. Baird.
McAvoy is best known right now for playing the heroic Charles Xavier in the X-Men films — albeit younger, wilder version of the classic character — but he obviously has no qualms taking on darker, weirder roles. Bruce Robertson makes his art thief Simon from Trance look like an unblemished saint in comparison.
Trance hits U.K. theaters this fall, but has yet to announce a U.S. release date.
Scheming Bruce Robertson (James McAvoy), a bigoted and corrupt policeman, is in line for a promotion and will stop at nothing to get what he wants. Enlisted to solve a brutal murder and threatened by the aspirations of his colleagues, including Ray Lennox (Jamie Bell), Bruce sets about ensuring their ruin, right under the nose of unwitting Chief Inspector Toal. As he turns his colleagues against one another by stealing their wives and exposing their secrets, Bruce starts to lose himself in a web of deceit that he can no longer control. His past is slowly catching up with him, and a missing wife, a crippling drug habit and suspicious colleagues start to take their toll on his sanity. The question is: can he keep his grip on reality long enough to disentangle himself from the filth?