TV Bits: Vince Gilligan, Dan Harmon, 'Girls', 'The Newsroom', 'Doctor Who', 'Hannibal', 'Happy Endings', 'Falling Skies'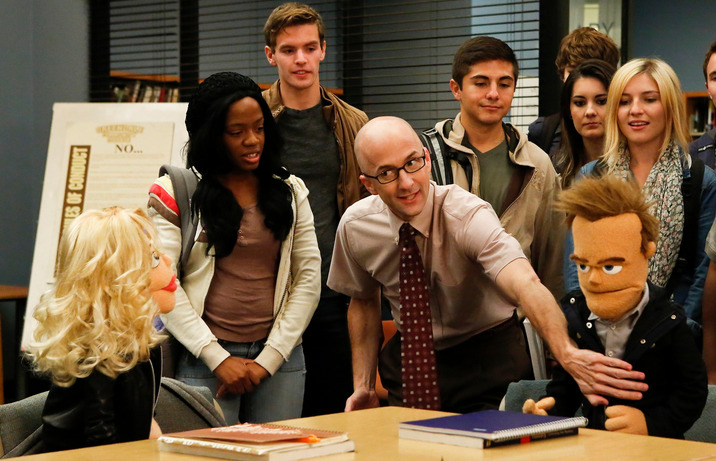 Sony is apparently eager to hear what Dan Harmon has to say about Community's fourth season. Also after the jump:
Peek at a DVD-only scene from Breaking Bad
NBC renews Hannibal
USA doesn't want Happy Endings
Revenge and Suburgatory lose stars
Matt Smith is leaving Doctor Who
Dominic West and Judy Greer book new roles
Girls adds a boy
Peek at Falling Skies' new poster
The Newsroom gets another trailer
Walt and Jesse's story ends one way or another this fall, but Saul (Bob Odenkirk) could live on yet if that rumored spinoff gets picked up. Although it may be a younger version of Saul than we're used to — showrunner Vince Gilligan explains that he's still trying to figure out exactly how the new show would fit into that universe.
It's still in its very early days. [We're] trying to figure out, for instance, whether it's a prequel or a sequel. We're trying to figure out what kind of story we want to tell as it relates to Saul. But any story that at some point or another showed Saul at his peak, his abilities and his networking skills, would, I think, show the criminal underbelly of a fictional Albuquerque that really had Saul Goodman wired into pretty much the heart of it. This is a guy who kind of knows everybody... everybody in town, all the major players. And he has a hand in the business every which way he can. So we just have to figure out exactly what kind of story we're telling. Is it a story about his creation of his own character? Because Saul Goodman, as he explains in his first episode, is not his real name. He is a self-created character, much like Heisenberg. Do we tell the story of his origins? We're still trying to hash that out. But there are a lot of fun possibilities.
Breaking Bad returns August 11. [Yahoo]Dan Harmon's all set to return for Community's next season, but first he'll have to sit down and check out Community's last season. And we may get to hear him do it.
"I have not seen the fourth season yet," Harmon said at a recent event. But "Sony said they're very interested in recording me watching it as a commentary track" for the Season 4 DVD, he added. I'm sure he'll have plenty to say on that topic. [THR]
The suspense surrounding Hannibal the character hasn't been resolved, but the suspense surrounding Hannibal the show has. NBC has renewed the Byran Fuller-created series for a 13-episode second season, to debut "no earlier than midseason." [HitFix]
In sadder news, Happy Endings may not be headed toward such a happy ending. USA expressed interest in possibly picking up the comedy even before ABC decided not to renew it, but now it appears that talks have stalled.
Before you start mourning the end of Brad and Jane, though, all hope's not lost. There's still a tiny sliver of hope that USA is still working things out, and word is that NBC and TBS have also started circling. [Vulture]
Suburgatory is cleaning house. Thanks to budget cuts, the ABC comedy is looking to trim its cast, starting with Alan Tudyk and Rex Lee. They could resurface as guest stars, but won't appear as regulars in the upcoming third season. [Deadline]
Meanwhile, fellow ABC series Revenge is also doing a bit of cast reshuffling. Ashley Madekwe will not return for the next season, as producers felt her character had run her course.
In a tweet, Madekwe threw out some ideas for her character's end. "My preference is that Ashley Davenport dies in a blaze of glory. Preferable whilst wearing Valentino couture," she wrote. "Or Chanel. I'm not fussy." [Deadline]
The time has come for everyone's favorite Time Lord to regenerate once more. Matt Smith announced this weekend that he would be departing Doctor Who this coming winter. His as-yet-unnamed replacement will take over during the next Christmas special episode.
It's really anyone's guess at this point whom that might turn out to be, but if you're the betting type U.K. bookmaker William Hill is offering 10/1 odds on names like Russell Tovey and Rupert Grint. [Variety]
Girls lost one of its guys earlier this year when Christopher Abbott decided not to return for the next season, but it looks like they've found another one to join the gang. Michael Zegen has joined the cast in a mysterious recurring role. Zegen was last seen in the similarly themed Francis Ha, which co-stars Girls' Adam Driver. In addition, he has a recurring part as Benny Siegel in HBO's Boardwalk Empire. [Deadline]
A The Descendants reunion of sorts is shaping up at FX. Judy Greer has signed on to star opposite Nat Faxon in an upcoming untitled comedy pilot by Andrew Gurland. She'll play his wife, who gives him permission to get his needs met elsewhere when their sex life starts to flag. [Variety]
Dominic West is returning to premium cable, albeit on Showtime instead of HBO. The former The Wire star has booked the lead in the drama pilot The Affair, from In Treatment's Sarah Treem and Hagai Levi. He'll play a married father who meets and falls for another man's wife. The pair strike up an extramarital relationship with disruptive consequences for both families. [Coming Soon]
CBS' Under the Dome isn't the only Steven Spielberg-produced sci-fi series airing this summer. TNT has revealed a new poster and photos for Falling Skies, which returns for its third season next weekend.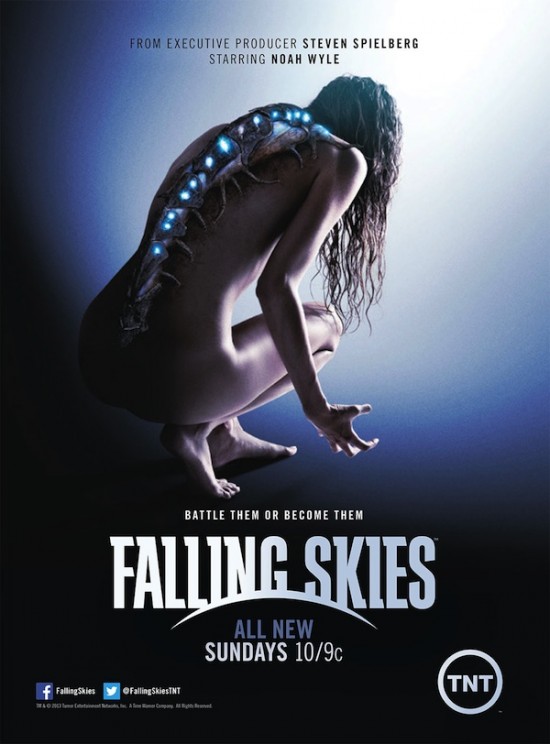 Falling Skies Season 3 premieres June 9. [TV Line]
I'm going to assume this teaser for Season 2 of HBO's The Newsroom is supposed to be artsy and metaphorical. Though it would be an interesting twist if ACN just up and shifted its offices to the middle of the desert this season.
The Newsroom returns July 14.