Take A Peek At Heath Ledger's Joker Diary From 'The Dark Knight'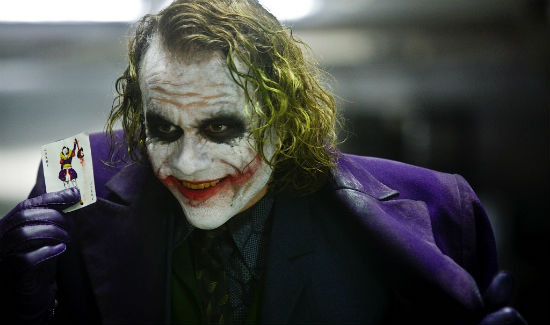 Of the many comic book movie villains we've seen paraded across the big screen in the past 15 years, one of the most memorable has been Heath Ledger's Joker from The Dark Knight. The young actor made the classic character entirely his own, imbuing him with an oddly charismatic menace that's been impossible to forget.
The role was colored by tragedy, however, when Ledger passed away months before the film's opening. It's terribly sad to realize we'll never get to see this talented star at work again, but at least we can continue to appreciate his contribution to the cinematic landscape. In a recently revealed clip from the German documentary series Too Young to Die, Ledger's father Kim Ledger takes a peek inside his son's "Joker diary" from the Dark Knight shoot. Hit the jump to check it out.
The voiceover makes it tough to hear Kim Ledger's own words, but there's an English translation below.
This is the Joker's diary. In order to inhabit his character, he (Heath) locked himself up in a hotel room for weeks. He would do that. He liked to dive into his characters, but this time he really took it up a notch.
The hospital scene is interesting because when he was a kid, his sister Kate liked to dress him up as a nurse. He was really funny like that. He also was in the movie. This is a make-up test which was done eight months before. Before the end of the shooting he wrote "bye bye" on the back of the page. It was hard to see this.
This is presumably the same diary Heath Ledger mentioned months before his death while speaking to Empire about his preparations for the role:
I sat around in a hotel room in London for about a month, locked myself away, formed a little diary and experimented with voices — it was important to try to find a somewhat iconic voice and laugh. I ended up landing more in the realm of a psychopath — someone with very little to no conscience towards his acts. He's just an absolute sociopath, a cold-blooded, mass-murdering clown, and Chris has given me free rein. Which is fun, because there are no real boundaries to what The Joker would say or do. Nothing intimidates him, and everything is a big joke.
Performances like Ledger's don't just happen by accident, and it's obvious the actor poured a lot of thought and emotion into this role. While we'll never stop regretting that this promising actor died so young, it's wonderful to be reminded of what he was able to accomplish during his all-too-brief career.