Sequel Bits: 'Despicable Me 2', 'Super Troopers 2', 'Weedfest', 'Insidious Chapter 2', 'Fast 7', 'Machete Kills'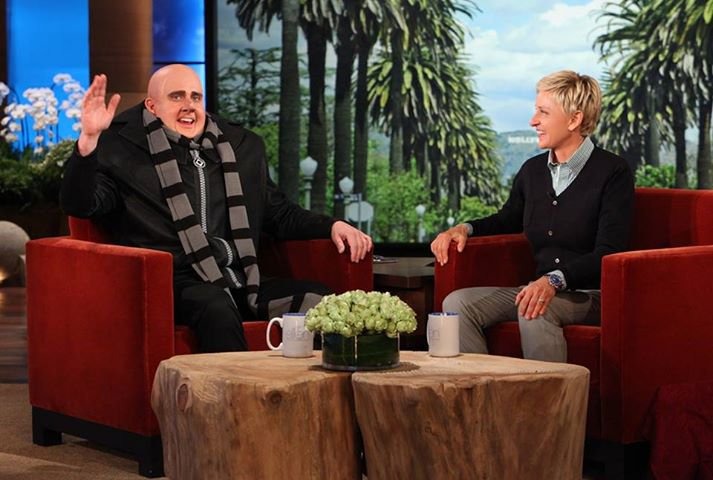 Steve Carell doesn't actually need to dress up as Gru to play him for Despicable Me 2, but don't tell him that. Also after the jump:
Broken Lizard is planning Weedfest and Super Troopers 2
Despicable Me 2's villainous El Macho is finally revealed
See new pics and a filmmakers' message from Insidious Chapter 2
James Wan explores Abu Dhabi as a potential Fast 7 location
Michelle Rodriguez glowers in her Machete Kills poster
Additionally, the pair confirmed that Weedfest (a.k.a. Potfest) is still in development, and has been set up at a studio with a script already in the works. It could be some time still before production actually begins, but some progress is better than no progress. [Movies.com]
One of the perks of voice work for actors is that they don't have to spend time in costuming and makeup. But it seems some stars want to dress up like their characters anyway. Steve Carell recently showed up on Ellen dressed as Gru, the villainous lead of Despicable Me 2 — complete with bald headpiece, pointy nose, hunched back, and of course his "Albuquerque" accent.
Between his three girls, his many minions, and this press tour, Gru has more than enough to deal with at the moment. On top of all that, though, he'll also be facing a new baddie called El Macho (voiced by Benjamin Bratt, who replaced Al Pacino, who replaced Javier Bardem) in the new installment. See the first official image of him below.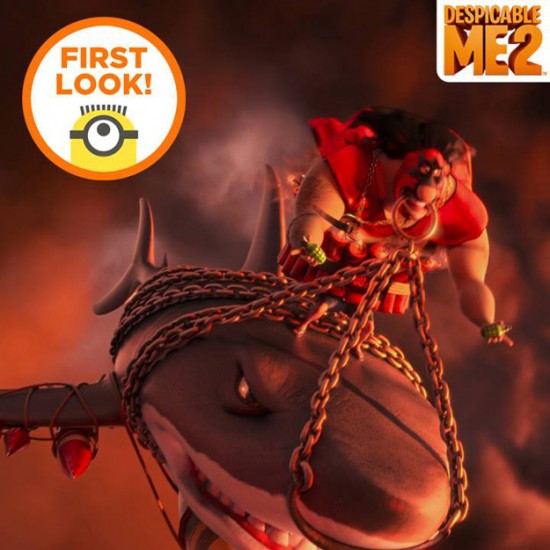 Despicable Me 2 opens July 3. [PR Newswire, Facebook]
We still don't know what was peeking through that veil in that first teaser image from Insidious Chapter 2, but maybe these new stills can offer some clues. At the very least, they show us which familiar faces will be returning for the sequel.
We'll get to see even more of then when the first trailer hits next week, as announced by director James Wan and writer Leigh Whannell below.
[via Screen Rant]
Meanwhile, as Insidious Chapter 2's marketing campaign kicks into high gear, Wan is already hard at work on Fast 7. The filmmaker posted a photo of himself scouting locations in Abu Dhabi for what he called "a high rise stunt sequence."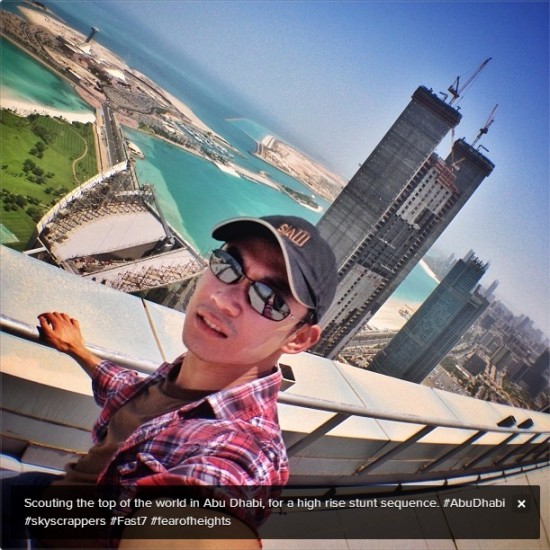 This certainly fits with star Vin Diesel's earlier comment that the film would travel to the Middle East as well as Tokyo. Fast 7 lands in theaters July 11, 2014. [Instagram]
Michelle Rodriguez made a brief appearance in the first Machete Kills trailer earlier this week looking pretty damn tough. Get an even better look at her gun-toting character Shé in her poster below.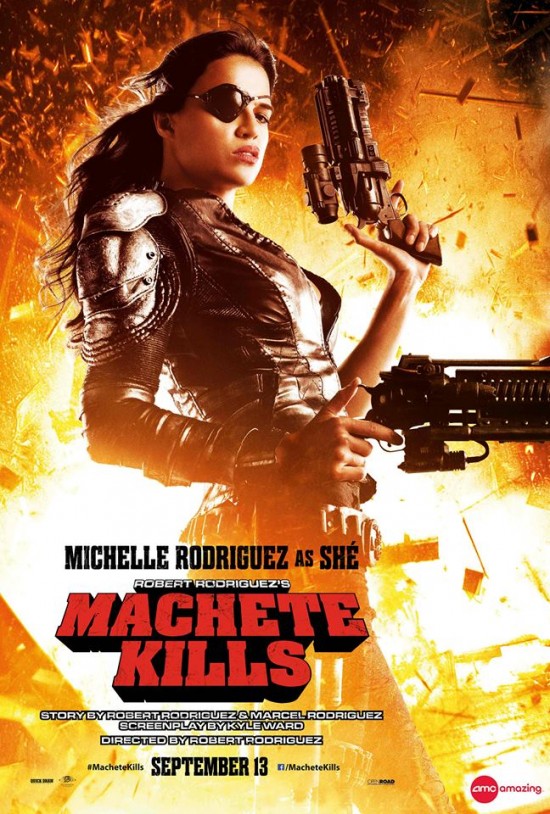 Machete Kills drops September 13.