'Percy Jackson: Sea Of Monsters' Trailer: Nathan Fillion Has Some Helpful Advice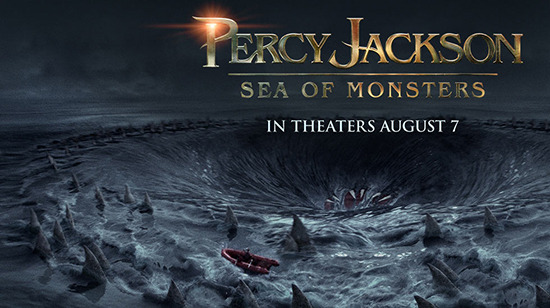 This second trailer for Thor Freudenthal's Percy Jackson: Sea of Monsters features a cavalcade of beasties, and also a significant presence from Nathan Fillion, who plays a modernized version of the god Hermes. That's probably enough to warrant a look from many potential audience members.
Those elements were present in the first trailer, along with plenty of material featuring returning cast (Logan Lerman, Brandon T Jackson, and Alexandra Daddario). But the intent here seems to be to sell the movie as a real spectacle. In that respect it succeeds pretty well. The series still has to truly establish itself as a proper successor to the Harry Potter films — and that may not be possible — but at least it appears to be able to make good on a promise to deliver colorful and dangerous monsters.
Percy Jackson: Sea of Monsters opens on August 7. Apple has the trailer.
Based on the best-selling book, PERCY JACKSON: SEA OF MONSTERS continues the young demigod's epic journey to fulfill his destiny. To save their world, Percy and his friends must find the fabled and magical Golden Fleece. Embarking on a treacherous odyssey into the uncharted waters of the Sea of Monsters (known to humans as the Bermuda Triangle), they battle terrifying creatures, an army of zombies, and the ultimate Evil.