Superhero Bits: Man Of Steel, The Wolverine, Amazing Spider-Man 2, X-Men: Days Of Future Past, The Avengers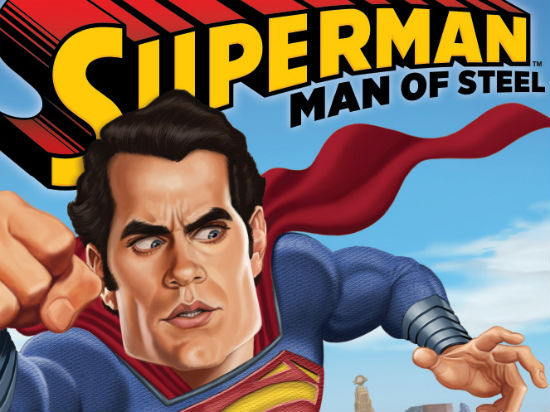 What is Mad Magazine doing to celebrate Man of Steel? See our exclusive cover. Does Hugh Jackman want to be part of The Avengers? Has Bryan Singer made a major reveal in regards to X-Men: Days of Future Past? Want to watch a video ripping apart the Green Lantern movie? How would Man of Steel look like in the world of Minecraft? Did Arrested Development talk about superheroes in the latest season? Who is talking about the Man of Steel shaving? Read about all that and more in today's Superhero Bits.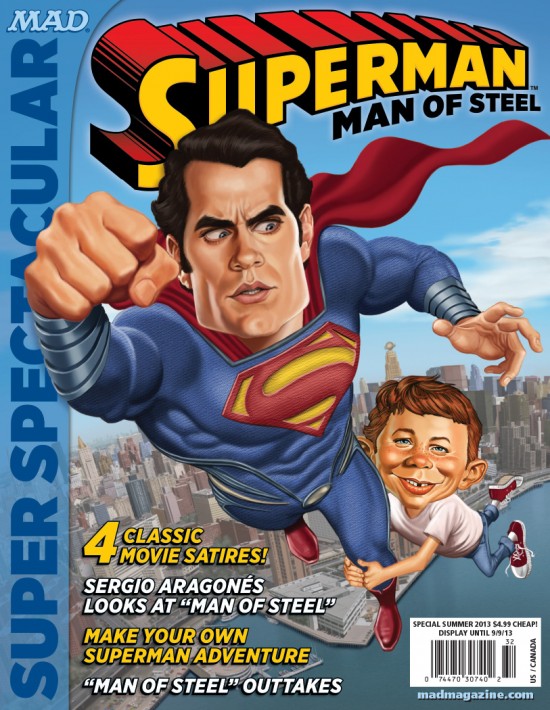 Here's our exclusive reveal of next month's Man of Steel centric issue of Mad Magazine. It'll be out June 12, click here for more information and here to subscribe.
In case you missed our on set interview with The Wolverine, Hugh Jackman, he said he'd love to be part of The Avengers:
I would love to mix it up with Robert Downey Jr. and Iron Man and kick his ass.
Bryan Singer reveals a new logo from X-Men: Days of Future Past, and Badass Digest explains its connection Peter Dinklage.Louis Leterrier talked to the Huffington Post about his problems on The Incredible Hulk.Cinema Sins take aim at Green Lantern.
More on Hugh Jackman and The Avengers, he believes X-Men: Days of Future Past is very comparable to the Marvel film. Here was his reaction when he first read the story:
I was like, 'Okay, this is a slam-dunk idea. This, actually, is phenomenal. I think this will be, for X-Men, like The Avengers.' And I think it is...
Machinma reimagined the Man of Steel trailer in Minecraft.Anthony and Joe Russo spoke to Cleveland.com about filming Captain America: The Winter Soldier. Thanks to Comic Book Movie for the heads up.
Due to the amount of graphics and images included in Superhero Bits, we have to split this post over THREE pages. Click the link above to continue to the second page of Superhero Bits.
Splashnews (via CBM) posted some new photos from The Amazing Spider-Man 2, including Emma Stone on set.Pack of Heroes is a superhero card came on Kickstarter. Sounds pretty cool. Read more at the link.
Gillette has posted several videos of pop culture icons attempting to figure out how the Man of Steel shaves. Here's a link to the rest.
No spoilers, but if you're a comic book fan, there is one brilliant comic book storyline that works its way through the fourth season of Arrested Development. Here's a brief write up.
/Film reader Dustin S. alerted us to this CineFix video of an 8-Bit Iron Man. Have we posted this before? It's possible.
Love Deadpool? Have a strong sense of design? We Love Fine is hosting a t-shirt design contest.
The full trailer for Young Justice: Legacy is now online via Superhero Hype.
Read some more about the incredible money being brought in by Iron Man 3.
Due to the amount of graphics and images included in Superhero Bits, we have to split this post over THREE pages. Click the link above to continue to the third page of Superhero Bits.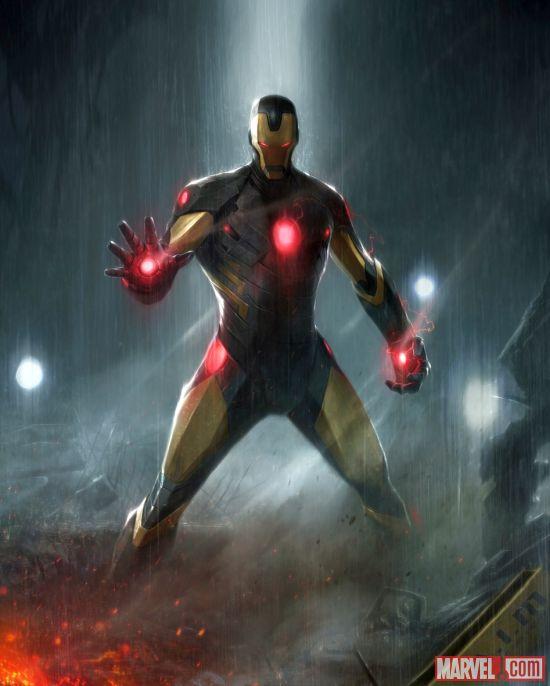 Artist Francesco Mattina did some great work for Marvel's War of Heroes. Thanks to CBM.
How do you simulate flying while wearing a Superman costume? This Gif has the answer.
Comic Book Movie debuted some new images from StudioADI (Amalgamated Dynamics) behind the scenes of Spider-Man.
In the New York Times interview posted a few days back, Christopher Nolan explained how Watchmen made Zack Snyder perfect for Man of Steel:
It's ironic but it's a very productive irony. You're dealing with a filmmaker who has deconstructed this mythology and now has to reconstruct it. That's a fascinating challenge for him... [Zack has an] innate aptitude for dealing with superheroes as real characters. That was what a new approach to Superman required. He understands the power of iconic images, but he also understands the people behind them.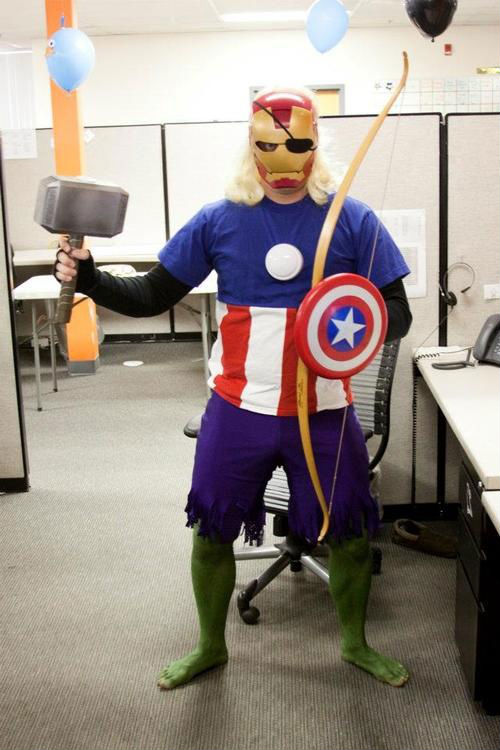 I don't generally like to post cosplay, but this guy is all of The Avengers at one. Pretty funny.
There's a Kickstarter for a Marvel Superhero short film based on Nick Cage.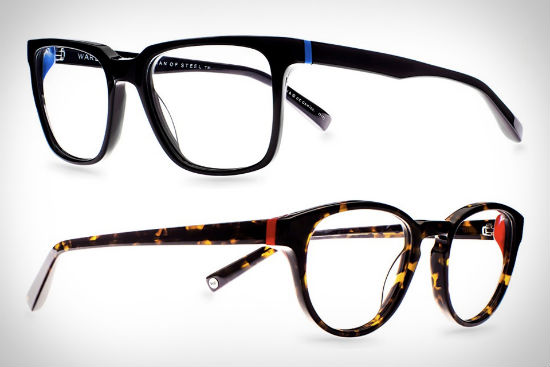 Warby Parker is selling high-end glasses frames based on Man of Steel. Via Uncrate.IO9 writes about Geoff Johns leaving Green Lantern.