VOTD: J.J. Abrams And Jon Stewart Discuss 'Star Wars' Versus 'Star Trek'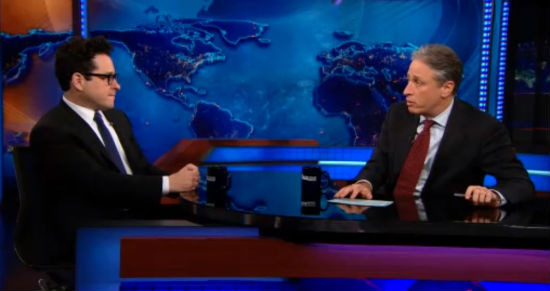 "Star Trek or Star Wars?" is a question that's been debated by sci-fi fans since Star Wars exploded onto the scene in 1977. At that time Star Trek had already been around for a decade, but some would argue the success of Star Wars helped reinvigorate the series. Others may say George Lucas would never have travelled to a galaxy far, far away had it not been for the ideas and vision of Gene Roddenberry. Either way, the thought of one person controlling both franchises likely never occurred to fans. Then, in 2013, the guy chosen to reboot Star Trek, J.J. Abrams, signed on to restart the Star Wars franchise, and fans of both were left with a multitude of different feelings.
Abrams is currently promoting his second Star Trek film, Star Trek Into Darkness, and has been asked about Star Wars: Episode VII at every single turn. Monday night he showed up on The Daily Show With Jon Stewart and the topic came up again. This time, instead of delving into exactly how the director plans on dealing with Star Wars, they discussed the fundamental differences and merits of each franchise. It's a fun watch. Check it out below.
Thanks to Comedy Central (via Movies.com) for the heads up. Here's part one, where they talk mostly about Star Wars vs. Star Trek.
The Daily Show with Jon Stewart
Get More: Daily Show Full Episodes,Indecision Political Humor,The Daily Show on Facebook
In the second part of the interview, Abrams praises Jon Stewart's upcoming film, Stewart begs to be in Star Wars, and Abrams blows him off.
The Daily Show with Jon Stewart
Get More: Daily Show Full Episodes,Indecision Political Humor,The Daily Show on Facebook