'The World's End' International Teaser Trailer: A Sci-Fi Conclusion To The Three Flavors Cornetto Trilogy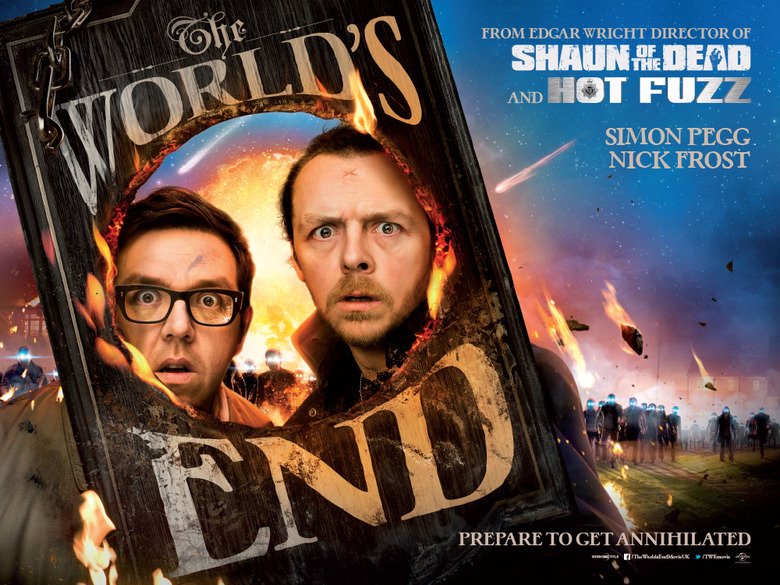 With Shaun of the Dead, writers Edgar Wright and Simon Pegg played within the zombie genre. In Hot Fuzz they tackled action films. Later this year, they will conclude their trilogy of genre-blending comedies with The World's End. It's a film that has been a topic of discussion for years. Now, finally,  we have our first glimpse of how Wright, Pegg, and co-star Nick Frost plan on tying everything together.
The World's End is a sci-fi comedy that sees five friends (Pegg, Frost, Paddy Considine, Martin Freeman and Eddie Marsan) return to their old hometown to drink their way through twelve bars. When they arrive, though, things are a bit more like Invasion of the Body Snatchers than Animal House, and fate of the universe is at stake.
Directed and co-written by Wright, The World's End opens July 19 in the United Kingdom and August 23 in the United States. Check out the international teaser trailer below.
Thanks to MSN UK for the trailer
Wright took to Twitter early on Tuesday to sum up a bit of his feeling on the film:
All good things must come to an end... pic.twitter.com/hEgffwOEr9

— edgarwright (@edgarwright) May 7, 2013
Yup, all good things must come to an end. But what looks so excellent about The World's End is that it is not only a sci-fi action comedy romance, but one that references the two films that came before it: Shaun of the Dead and Hot Fuzz. While there will certainly be some other movie homages in the film, referencing the previous two films in the Three Flavors Cornetto trilogy seems like a great way to wrap up this series of smart, funny and action packed films.
When Wright screened this trailer last week, he talked a bit about how The World's End was very much conceived around the idea of "home" feeling different when you go back after a bunch of years. It looks the same, but feels off. The same can be said for your friends as they grow up. Those ideas helped shape some of this film, including the villains being possessed townspeople. But there's also those massive monsters and surely plenty of drunken debauchery. Plenty for five friends to fight against on a pub crawl decades in the making.
Expect to see more when the U.S. teaser trailer hits soon but, as a first look at this highly anticipated film, what do you think?