'Prince Avalanche' Trailer: David Gordon Green Hits The Road With Paul Rudd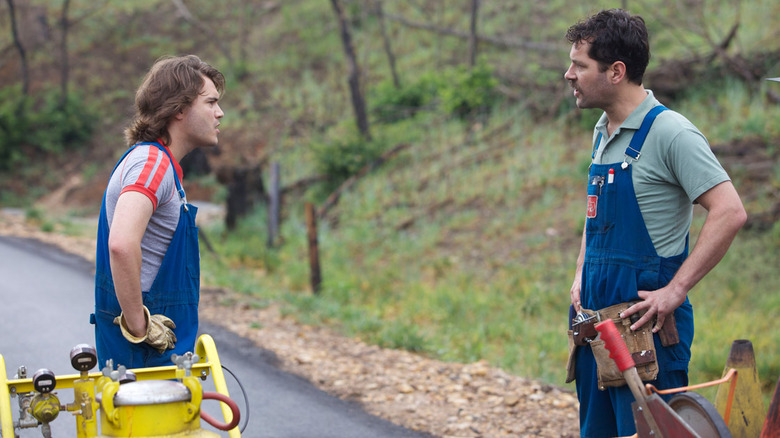 Though David Gordon Green broke out with quiet indie dramas like All the Real Girls, since 2008's Pineapple Express he's stuck mostly with studio comedy projects. But now he seems ready to transition back, with the indie Prince Avalanche as the first step. Funny but sweet, the film strikes a pleasing balance of both Green's serious and goofy sides.
A remake of the Icelandic film Either Way, the film centers on two very different men, pensive Alvin (Paul Rudd) and his girlfriend's dim brother Lance (Emile Hirsch), as they spend the summer together painting road lines in remote areas of Texas. Magnolia scooped it up shortly after its Sundance premiere in January and has now released a first trailer. Watch it after the jump.
Maybe because I grew up in the suburbs, I've always taken these lonely roads for granted. But obviously, someone has to put them there and maintain them, and now we know who. Prince Avalanche has gotten pretty good reviews on the festival circuit so far, many of them from Green fans who seem relieved to see him return to his indie roots. His next film after this one, the gritty Southern drama Joe, takes him even closer to where he started.
Prince Avalanche hits theaters and VOD August 9.
An odd couple of sorts, meditative and stern Alvin and his girlfriend's brother, Lance, dopey and insecure, leave the city behind to spend the summer in solitude repainting traffic lines down the center of a country highway ravaged by wildfire. As they sink into their job in the remarkable landscape, they learn more than they want to about each other and their own limitations. An unlikely friendship develops through humor and nasty exchanges, leading to surprising affection. Adapted from Icelandic film Either Way, Prince Avalanche is driven by wonderful performances by Paul Rudd, Emile Hirsch, and Lance LeGault. Writer/director David Gordon Green gets back to his independent roots with this character study, which shows his knack for realistically capturing people and finding meaning in their lives and dreams.