'Guardians Of The Galaxy' Director James Gunn Explains Rocket Raccoon As A "Mangled Little Beast"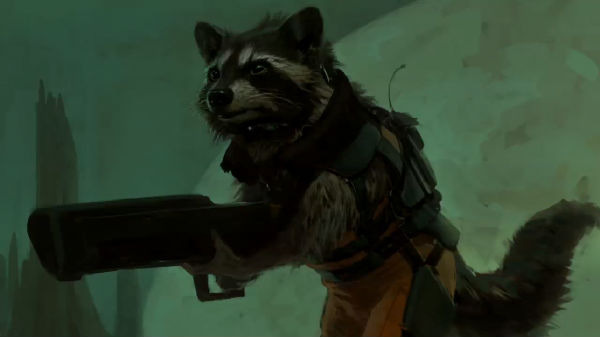 With Iron Man 3 about to escape fully into the wild and Marvel's Thor: The Dark World and Captain America: The Winter Solider in various states of production, we're moving closer to the point where things will be made clear about the studio's next team movie, Guardians of the Galaxy. With Marvel's other Phase Two movies being primarily sequels to established properties, Guardians stands as the biggest curiosity on the studio slate.
(Edgar Wright's Ant-Man is also something of an unknown, but given that it features a human lead and that we've seen test footage, it isn't as much of a question mark.)
Now Guardians of the Galaxy director James Gunn has given an interview in which he starts to clear up some ideas about the team that features an alien assassin, a robot, a sentient tree, and a gun-toting raccoon.
Gunn spoke to HeyUGuys on the occasion of the Iron Man 3 premiere in London. The director explained that shooting begins at Shepperton Studios at the end of June. He also addressed some ideas about the Rocket Raccoon character:
There are a lot of people who have a lot of ideas of who is right for Rocket Racoon. Rocket Racoon has been slightly different over the years, in the comic books, and within my scripts he is a very, very specific guy, and I think people are going to have to wait for a few weeks before they see.
I do think we're very, very different from Star Wars. Some of the concept art that came out is under my tutelage, and some of it is before my tutelage. The concept art that came out is only stuff that was on the big Marvel collected disc set, talking about phase two and it had some stuff from Guardians. Some of the art by Charlie Wen and the guys. The Rocket that was by itself was an early version of my Rocket that I dealt with Charlie when developing. He doesn't look so much like that anymore, but there's a lot of similarities in that he's more of a grounded, real little creature as opposed to a cartoonish thing.
I've done a lot of studying with real racoons, and we had real racoons come in. We've done photography with them, I've played with racoons, and fed racoons, and dealt a lot with real racoons to get some of the behaviour down, because it's really, really important to me that Rocket Racoon, who is the heart of the movie, is not a cartoon character, it's not Bugs Bunny in the middle of The Avengers, it's a real, little, somewhat mangled beast that's alone. There's no one else in the universe quite like him, he's been created by these guys to be a mean-ass fighting machine.
There's quite a bit more in the interview, including comments about choosing Chris Pratt to play Star-Lord, and rumors of other casting.