Early Reaction: Disney Screens Pixar's 'Monsters University' And 18 Minutes Of 'Lone Ranger'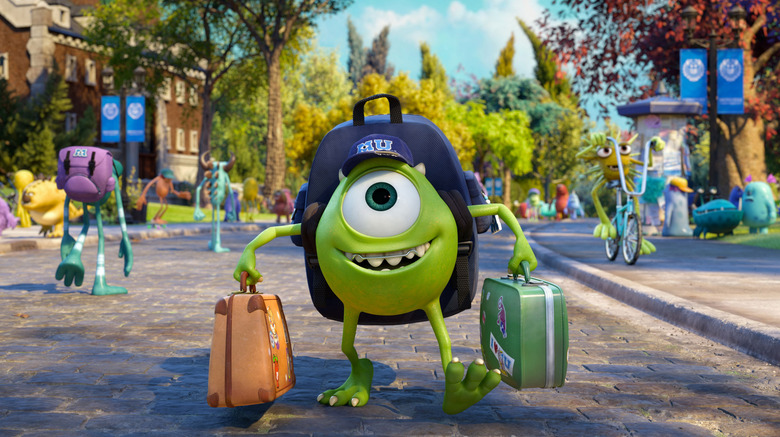 Sometimes movie studios come to CinemaCon (formerly ShoWest) to screen early cuts of their films. Dreamworks Animation came to Vegas in 2008 with an early cut of Kung Fu Panda with temp score and sequences of storyboards or unfinished rendered animation. A few years back Disney arrived at the convention with an early cut of Toy Story 3, with unfinished animation and lighting. Both of those worked out well enough.
This year Disney was confident enough in the latest Pixar effort to bring it to the convention. On the surface, Monsters University doesn't seem like much of a gamble. It's a sequel (errr prequel) to a blockbuster film from years ago, which brings beloved furry and one eyed franchise characters back to the screen. But the movie is very different from the original.
See spoiler-free video and written reactions, after the jump.
Video reaction:
This is an origin story, a fun broad college comedy without the million dollar logline. It shows that some of your beloved characters began as something else... jerks. The message at the film's core is very gutsy, especially for a big budget computer-animated kids movie. The last act delves into some darker places and ideas than you might expect — and this is a good thing. It hit me like a punch to the gut.
Monsters University is a lot of fun, with the humor hitting a broader level than the earlier Pixar films. The world crafted here is so clever. If you're not laughing out loud at the jokes, you'll be chuckling inside exploring the backgrounds and world of each and every sequence. (For instance, even the school busses have horns.)
While the genre beats are derivative of the college comedies of the 70's and 80's, the story is expertly crafted, taking twists and turns you won't be expecting. There were multiple times during this film that I found myself asking "what now? Where can the story possibly go from here?" You may know where Mike and Sully end up, but you'd never be able to guess the course of actions that brings them there.
Pixar definitely has another hit on their hands with Monsters University. It can't hurt that kids who grew up with Monsters Inc thirteen years ago are probably entering or living out their college years as this is released. (The same correlation has been made to Andy moving off to college in Toy Story 3, along with his audience.) The audience, packed with movie exhibitors, ate the film up and left smiling, as did I.
Disney also screened almost 20 minutes worth of clips from Gore Verbinski's The Lone Ranger. I loved the first Pirates of the Caribbean, liked Rango quite a bit, and didn't dislike the Pirates sequels. But with only a few exceptions, I've never been a huge fan of westerns. I haven't been impressed with what I've seen thus far for The Lone Ranger, and the presentation at CinemaCon was no different.
Disney screened an early train action sequence and a few extended sequences from the new trailer. Some of the action in the train sequence was cool but nothing on the level of the Pirates films. And for me the bigger moments lacked any real feeling of danger. They showed some more character-centric moments with Armie which were rather boring. I'm getting the feeling that much like the Pirates sequels, it gets very dry when Johnny Depp isn't on screen. But when Depp does appear he steals every scene and had some funny moments.
I'm waiting for Disney to convince me this film is going to be good, or even worth half the budget they reportedly spent — but that will have to wait for another day. The exhibitor audience seemed to eat it up. But much like he has for Disney, Depp has made them a lot of money and I think there is some residual emotional attachment.