'300: Rise Of An Empire' Poster: It's Raining, Men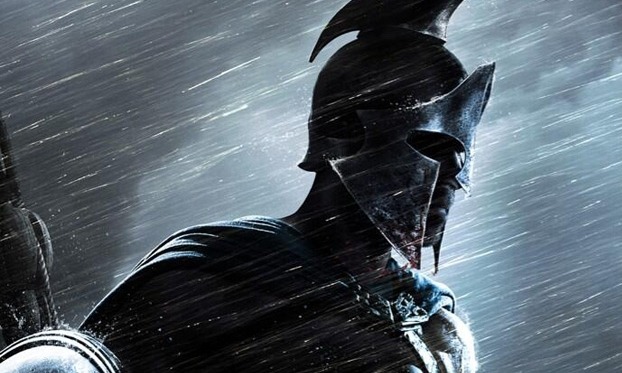 Hot on the heels of the enthusiastically received new trailer for Man of Steel, Zack Snyder has offered a little taste of another of his upcoming projects.
The filmmaker took to Twitter to reveal the first poster for 300: Rise of an Empire, the long-awaited sequel to his 2006 comic book adaptation 300. Noam Murro (Smart People) takes over in the director's chair this time around, while Snyder serves as co-writer and producer. Check out the new art after the jump.
Sullivan Stapleton leads the beefy cast of 300: Rise of an Empire, and featured prominently in the first image from the film. But the figure in the poster is wearing a face-obscuring helmet, so it's tough to say for certain whether it's Stapleton we're looking at. Whoever he is, his heroic pose and scanty costume mark him as a citizen of the heavily stylized 300 universe.
Here's the first poster for #300movie: Rise of an Empire! Seize your Glory! pic.twitter.com/C91YEVnGNB

— Zack Snyder (@ZackSnyder) April 17, 2013
Based on the graphic novel Xerxes by Frank Miller, 300: Rise of an Empire runs parallel to the events of the first film. Stapleton plays Greek general Themistokles, who goes to war against the Persian army. Rodrigo Santoro reprises his role from the first film as Persian "god-king" Xexes, while series newcomer Eva Green plays his vengeful second-in-command Artemesia. Additionally, Lena Headey steps back into her role as Queen Gorgo from the first film.
While the new movie will mirror the look and feel of the first 300, its scope and dynamic are rather different this time around. The battles will be waged in several new locales, including the sea. Themistokles is more of a politician than Gerard Butler's King Leonidas was, and his soldiers are humble citizens, not highly trained Spartans. But if this poster is any indication, they're in equally good fighting shape.
300: Rise of an Empire lands in 2D, 3D, and 3D IMAX on August 2. Hans Matheson, David Wenham, Igal Naor, Callan Mulvey, Jack O'Connell, and Andrew Tiernan round out the rest of the cast.