Mondo's Criterion Posters For 'Repo Man' Available Tuesday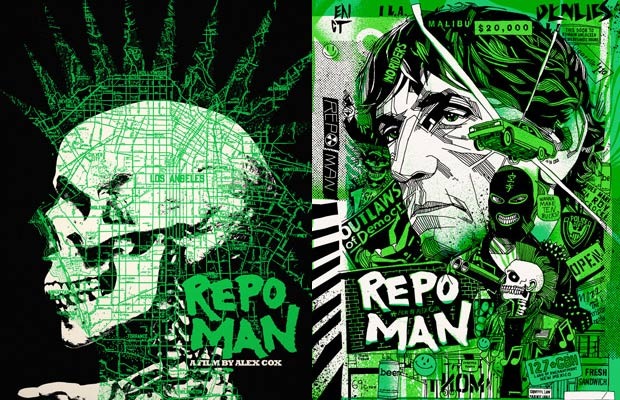 Criteron fans who saw the artwork for this week's release of Alex Cox's cult film Repo Man and thought, "That looks familiar" might have been 100% right. The work, commissioned by Criterion, was done by two of Mondo's familiar and talented artists: Jay Shaw and Tyler Stout. You can get the artwork on the Criterion release, out Tuesday, or as limited edition screenprints released by Mondo, also on Tuesday. Get the specifics below.
Thanks to Complex for the heads up. Here are the two posters, which comprise the inner and outer artwork of the Blu-ray.
Repo Man by Jay Shaw (with the grid), is an 18 x 24 inch edition fo 195. It'll cost $45.Repo Man by Tyler Stout (with the big Harry Dean Stanton) is available in a $45, regular edition of 510 or a $65, glow in the dark variant edition of 220. Both are 18 x 24.
The posters go on sale at a random time Tuesday by following @MondoNews. Good luck.
Did you know: This isn't Jay Shaw's first Repo Man print? He did one for Gallery 1988 several years back under the name Iron Jaiden. Check it out here.