TV Bits: 'Arrested Development', 'Breaking Bad', 'King Of The Hill', 'Being Human', Jamie Foxx, Ryan Murphy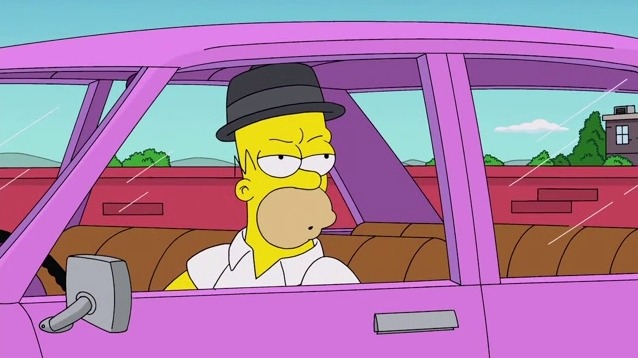 Netflix's awesomely playful campaign for Season 4 of Arrested Development continues with a banana-flavored Easter egg. Also after the jump:
The CW moves Cult from Fridays to never
Starz sets a premiere date for Magic City
Being Human gets renewed by Syfy
Jamie Foxx will direct horror for Syfy
... and see what else the network has planned
Adrien Brody is History's Harry Houdini
Ryan Murphy's new drama heads to HBO
Jason Bateman says "Manage your expectations"
See The Simpsons' homage to Breaking Bad
... and Family Guy's nod to King of the Hill
In happier news, Starz' Magic City is coming back, and now we know when. The network has announced a June 14 9 PM bow for Season 2 of the midcentury Miami series. James Caan and Esai Morales appear in the new episodes. [Deadline]
Also set to return is Being Human, which Syfy renewed this week for a 13-episode fourth season. "Being Human really hit its stride creatively this year," said the network's president of original content Mark Stern. "This show has become a signature series for Syfy and we are thrilled to have it return in 2014." [TV Line]
In addition to the next season of Being Human, Syfy's upcoming programming includes a Twilight Zone-esque horror anthology written, produced, and directed by Jamie Foxx. The five-episode series will air as part of Syfy's 31 Days of Halloween programming marathon this fall. [Deadline]
And on top of that, Syfy's also announced several more new projects in development, including multiple space-centric series from the likes of Paranormal Activity producer Jason Blum, The Walking Dead exec producer Gale Anne Hurd, and Lost writer-producer (and Middleman creator!) Javier Grillo-Marxuach. THR has more details.
There have been multiple recent attempts to tell the story of Harry Houdini on the big screen, and now there's one on the small screen too. History is developing a miniseries under the unimaginative working title Houdini, about the magician's rise from poverty and obscurity to worldwide fame. Adrien Brody is attached to play the lead. Gerald W. Abrams (father of J.J.) is producing. [EW]
Glee, American Horror Story, and The New Normal co-creator Ryan Murphy could be adding another series to his slate. HBO has just given a pilot order to his drama spec Open, described as "a modern, provocative exploration of human sexuality and relationships." Casting will begin soon for a fall shoot. [Deadline]
You can hardly blame Arrested Development fans for getting excited for Season 4 — after all, we've been waiting years and years — but Jason Bateman wants folks to "manage their expectations." "They are great episodes. But what they are not are episodes like it was when it was on that other network," he explained to Jimmy Fallon.
Instead, it'll take full advantage of the Netflix model with fifteen episodes that unfold simultaneously.
Each character gets their own episode, and all the action happens at the same time. So it can only really work on Netflix, where these episodes are released on the same day. So like, you can stop my episode if you see Gob run by on his Segway, you can stop mine, click over to his, watch where he's going. 'Cause all the action happens at the same time 'cause it's all just act one.
However you choose to watch it, Arrested Development returns May 26. [via Vulture]
Speaking of which, Netflix has snuck another amusing Arrested Development Easter egg onto their site. If the series is included in your Instant Queue, you may notice that ratings work a little differently for that particular title. Instead of the usual five-star scale, Netflix has users judging Arrested Development on a special five-banana scale. Check it out:

[via SplitSider]
Apparently the blue stuff is as popular in Homer's Springfield as it is in Walt's Albuquerque. Only in this case, "the blue stuff" refers to blue cupcakes, not blue meth. The Simpsons' latest couch gag pays homage to Breaking Bad with Marge as the cook and Homer as a jealous (but very lazy) pork pie-hatted Heisenberg. Check it out below.
It's the details that really make this video, like the "Crystal Blue Persuasion" soundtrack and the POV shots from the bowl. And the surprise guest stars at the end are a nice touch, too. See the gag in context when it airs with the episode "What Animated Women Want" this Sunday.
Not to be outdone by their fellow Animation Domination series, Family Guy is also tipping its hat to a great series in the next episode — King of The Hill. We don't have an embeddable clip, but click below to watch the video at EW.com.