'Elysium' Trailer: Matt Damon Is Hunted To The Edge Of The Earth, And Beyond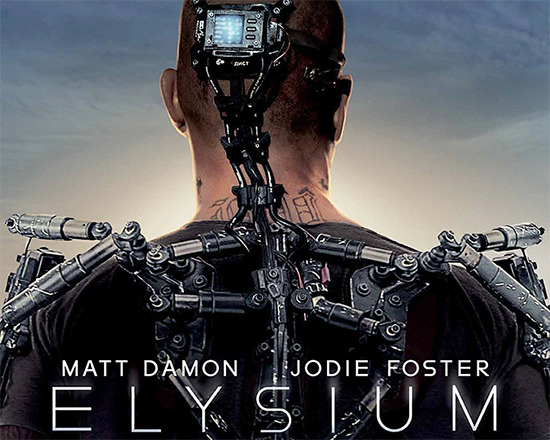 Neill Blomkamp's second film, Elysium, has been done for a while. Originally set for release in March of this year, the film was pushed back to August, reportedly so that Sony could take advantage of a better release window.
While we don't know much more about the reasons for the delay, we do know that the footage from the film looks great. We saw a presentation at Comic Con 2012, and the same footage was shown off by Sony yesterday, along with the trailer. Now we can show you that trailer, which sets up both a trashed, dirty, slum-like Earth, and Elysium, the shiny orbital colony in which the wealthy reside. Matt Damon plays a wounded man whose ticket to potential salvation on Elysium is bound up in a contract that makes him an enemy of the rich and powerful.
Just that info about the setup lets you know that some of Blomkamp's socio-political concerns recur from his debut District 9. While this trailer probably doesn't show off the full scope of the film's action — you'll barely even see Sharlto Copley, as the bearded antagonist — it will definitely let you know what the film looks like.
Yahoo has the trailer.
Here's the international version. (They're identical, I think, but the titles in this one are in Spanish.)
Elysium opens on August 9. It also features Jodie Foster, Sharlto Copley, Wagner Moura, and Alice Braga.
In the year 2159 two classes of people exist: the very wealthy who live on a pristine man-made space station called Elysium, and the rest, who live on an overpopulated, ruined Earth. Secretary Rhodes (Jodie Foster), a hard line government official will stop at nothing to enforce anti-immigration laws and preserve the luxurious lifestyle of the citizens of Elysium. That doesn't stop the people of Earth from trying to get in, by any means they can. When unlucky Max (Matt Damon) is backed into a corner, he agrees to take on a daunting mission that if successful will not only save his life, but could bring equality to these polarized worlds.