Eric Bana, Edgar Ramirez, Olivia Munn Join 'Sinister' Director's 'Beware The Night'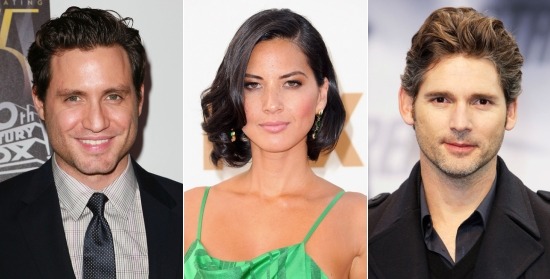 Sinister helmer Scott Derrickson has a few different projects brewing at the moment, including the the steampunk video game adaptation Deus Ex. But first, he's due to visit the paranormal world once again with Beware the Night. And now he's enlisted some notable names to take the journey with him.Eric Bana, Edgar Ramirez, and Olivia Munn have just boarded Screen Gems thriller, which is being produced by Jerry Bruckheimer. Hit the jump for more info.
The film has been in development for some time now, and at one point was set up at Disney. In a statement, Bruckheimer expressed his excitement over the picture's recent progress. "Beware the Night is a project we've been developing for many years, confident that a story which combines the paranormal with a gritty New York City police story is both original and strongly appealing to audiences," he wrote.
Bana's upcoming movies include the Focus Features thriller Closed Circuit and Peter Berg's Lone Survivor. Ramirez, last seen in Zero Dark Thirty, just recently signed on for the boxing biopic Hands of Stone opposite Robert De Niro. Munn starred last year in Magic Mike and The Babymakers, and will return as Sloan Sabbith on HBO's The Newsroom this summer.
Beware the Night is set to shoot in the Bronx next month, so we can likely expect it in theaters sometime in 2014. And then, if it does well, we can look for more where that came from down the line, as Screen Gems reportedly hopes the picture will launch a franchise.
[Source: Deadline]