Superhero Bits: Daredevil, Iron Man 3, Guardians Of The Galaxy, Man Of Steel, X-Men Days Of Future Past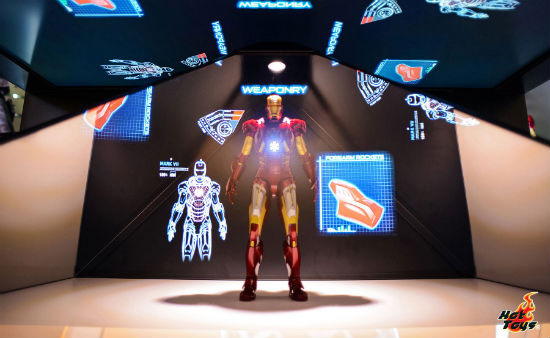 Where can you seen a insane display of Iron Man 3 props and prop replicas? What did the visual effects supervisor on Man of Steel say about the film? How did David Slade want to adapt Daredevil? What year could Guardians of the Galaxy take place in? Is it possible to get 700 free Marvel comics? Are Iron Man 3 tickets now on sale? Has Hugh Jackman read X-Men: Days of Future Past? Read about all this and more in today's Superhero Bits.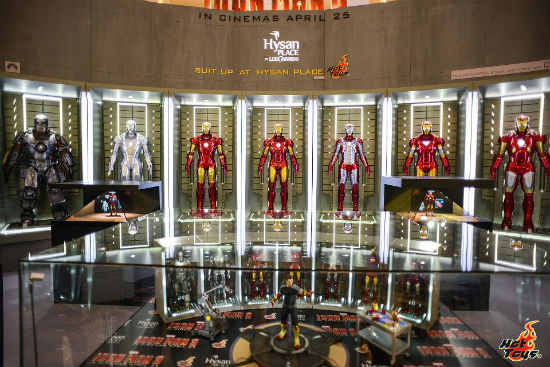 Hysan Place in Causeway Bay, Hong Kong has an exhibit of Iron Man 3 armors, as well as their Hot Toys counterparts. See more images at Facebook.
Weta Digital's Joe Letteri spoke to Bleeding Cool (via Superhero Hype) about Man of Steel:
I can't talk too much about Man of Steel yet, and I haven't seen the whole thing yet, but overall it's the story that's most exciting. It's a nice re-envisioning of the story of Superman leaving his homeworld and coming to this new one. If you look at what Zack [Snyder] has done you'll see that they've abandoned a lot of the pretense that was in the comics and asked "Can we still make this work?....They're sticking to realism as much as possible. Fantastic elements are still there but a lot of it that been trimmed back to make it feel as though this actually happened.
Powers! by HuHa is an interesting superhero animated short. Via Laughing Squid.Marvel is releasing 700 #1 issues, for free, on ComiXology. Read more here.
Day 43. William Spencer – the stunt elf. Scheming, mischief and general shenanigans. pic.twitter.com/CQFvlyeFxI

— Marc Webb (@MarcW) April 6, 2013


Marc Webb posted this image of Amazing Spider-Man 2 stunt man William Spencer.Entertainment Weekly spoke to Hugh Jackman about his upcoming role in X-Men: Days of Future Past:
[The script] is really really fantastic. I owe, in a way, everything to Bryan. The first film I did in America was X-Men. Wolverine is a character I've loved playing and I can't believe it's going to be my seventh time playing it. It just blows me away. It not only feels like the right kind of project, it actually is so exciting that we'll all be back together again. I don't want to give away too much but I'm really excited not only to reunite with all those great actors but also to work with some of the other ones.
Movies.com posted this video of the cast of Batman & Robin trashing the movie.Film School Rejects talked to David Slade about what his Daredevil could be, if it gets made.
Due to the amount of graphics and images included in Superhero Bits, we have to split this post over TWO pages. Click the link above to continue to the second page of Superhero Bits.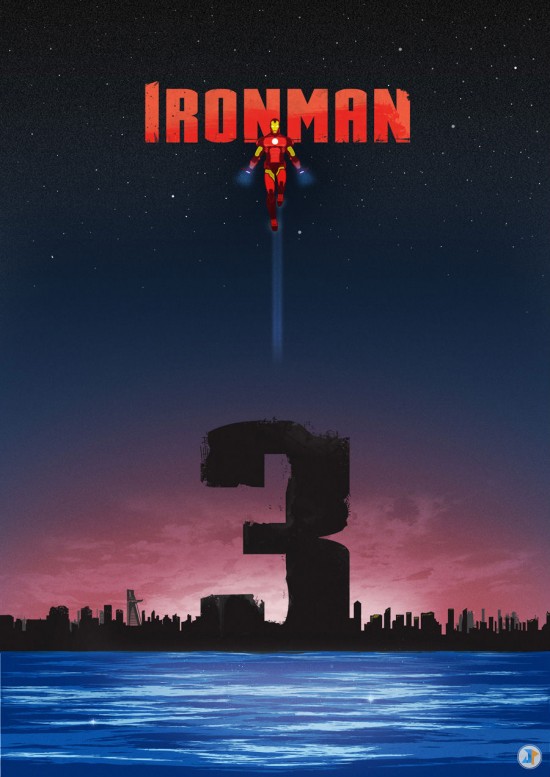 Jai Patel's Iron Man 3 poster via F Yeah.Comic Book Movie believes they've found a clue to what year Guardians of the Galaxy takes place in.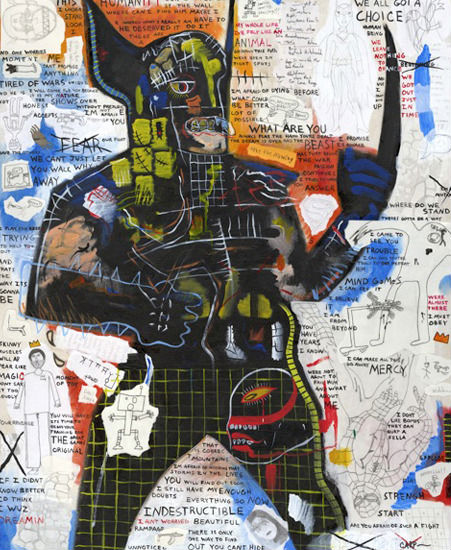 Here's "Wolverine Basquiat" by Mike Capp, part of the new Icons and Influences show at the LTD Art Gallery in Seattle.
Talking to Belfast Telegraph (via CBM), Lee Byung-hun spoke about his role in Red 2.
Spinning Brian Tyler's score for IRON MAN 3 for the first time.

It's big. Very, very big.

— ScoreKeeper (@ScoreKeeper_) April 5, 2013
AICN got a listen to the Brian Tyler Iron Man 3 score, who also spoke about the music here.
Regal announces their Iron Man marathon.
This is rad. A holographic Iron Man Hot Toys display. From Facebook via SHH.
If you want to read a bunch of Iron Man 3 spoilers, this Comic Book Movie link went through the kids adaptation. MAJOR SPOILERS there though.
Suit up and get your tickets for @Marvel's #IronMan3 now available from @Fandango: http://t.co/Mj9tr395o1! pic.twitter.com/et4JtARDqt

— Marvel Entertainment (@Marvel) April 8, 2013
Tickets for Iron Man 3 are on sale now, according to Marvel.
Cracked has an article called "Why the Greatest Superman Story Ever Told Was a Ripoff."