New 'Elysium' Images Show More Weird Technology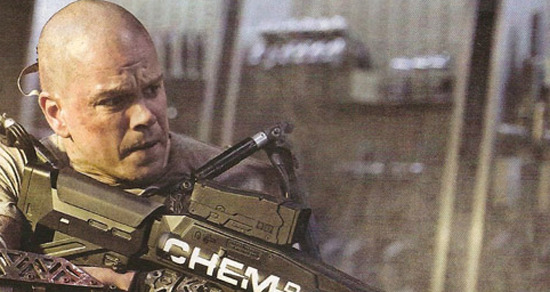 Elysium has been a movie of great interest since it was announced, thanks simply to the fact that it is the new film from District 9 writer/director Neill Blomkamp. Seeing footage from the film got us more interested in the project, as the picture's vision of Earth as a rubbish bin is reinforced not only by the gleaming cleanliness of the space station Elysium, but by the weird, cobbled-together tech we see star Matt Damon wearing. That stuff is prolonging his life, but also turning him into a force that threatens Elysium.
That tech is on display in new photos featuring Damon, Wagner Moura, and Alice Braga. We should see more from the film soon, as Sony is starting to ramp up a proper promo campaign for the August release. (Elysium was originally scheduled to be released a couple weeks ago, but pushed to August.)
The trailer will likely make all the actors' roles more clear — and those of Jodie Foster and Diego Luna as well — but for now gaze at the two new shots below. 
Elysium opens on August 9.
In the year 2159 two classes of people exist: the very wealthy who live on a pristine man-made space station called Elysium, and the rest, who live on an overpopulated, ruined Earth. Secretary Rhodes (Jodie Foster), a hard line government official will stop at nothing to enforce anti-immigration laws and preserve the luxurious lifestyle of the citizens of Elysium. That doesn't stop the people of Earth from trying to get in, by any means they can. When unlucky Max (Matt Damon) is backed into a corner, he agrees to take on a daunting mission that if successful will not only save his life, but could bring equality to these polarized worlds.