Martin Scorsese And Miramax Developing 'Gangs Of New York' TV Series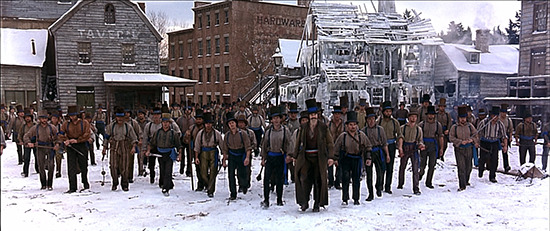 Martin Scorsese has created stunningly detailed worlds in many of his films, and the impulse to return to the streets of created in a movie like Goodfellas is understandable. It might not be the best idea, but it isn't a difficult thing to get your head around. We've heard about a potential Goodfellas TV series in the past, and now Gangs of New York is being developed for the small screen.
Scorsese is now working with his Gangs of New York distributor Miramax (or the current version of Miramax, at least) to develop a TV series based on the 2002 film.
The idea is not just to explore the area of early New York covered in the film, but to look at gangs in cities such as Chicago. And while the show would no doubt lack the commanding presence of the film's top-level cast, this seems like a much better idea than a Goodfellas show. By expanding the scope, the creators would have ample opportunity to break away from what we saw in the film. And while Goodfellas is a look at a single iconic character in the sweep of American crime history, Gangs offers the potential to craft an on-going story that would not affect or diminish the better aspects of the film.
In short, Gangs of New York is great material, but while the film has incredible aspects, it was not exactly an exceptional exploration of the story. There's a lot more to play with.
Scorsese said in a release,
This time and era of America's history and heritage is rich with characters and stories that we could not fully explore in a two hour film. A television series allows us the time and creative freedom to bring this colorful world, and all the implications it had and still does on our society, to life.
Current Miramax head Richard Nanula said,
No one better exemplifies what the new Miramax is and will be better than Martin Scorsese. His dedication to quality and the art of storytelling continues to excite everyone that works with him and watches his films and television programs. We could not think of a better partner for this project than the creator of the wonderful film on which it is based.
[Variety]