'Pain And Gain' Red Band Trailer: A Slow-Motion Shock To The Face From Michael Bay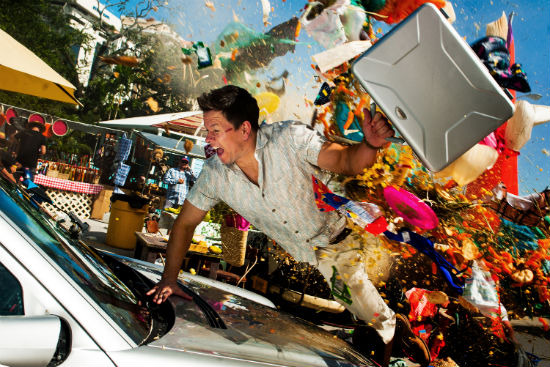 Mark Wahlberg, Dwayne Johnson and Anthony Mackie are about to get the full, Michael Bay Miami treatment in the action comedy Pain & Gain. A new red-band trailer for the April 26 film has just been released and it gives a great idea of the humor in the film, complete with language, violence and plenty of skin. Check it out below, along with a new TV spot and a few new stills.
Thanks to Yahoo for the trailer.
What a hilarious trailer. Gotta love Rebel Wilson's contributions, plus the banter between Wahlberg and Johnson. Their chemistry, along with Bay's signature look, is what really has me excited about this film. It's going to nice to see Bay go back to what made him one of the biggest directors around: R-rated action comedy like Bad Boys and The Rock.
Oh, and in case you missed the HUGE. BOLD. LETTERS. in the trailer, Pain and Gain is based on a true story. Here's the official plot description:
From acclaimed director Michael Bay comes "Pain & Gain," a new action comedy starring Mark Wahlberg, Dwayne Johnson and Anthony Mackie. Based on the unbelievable true story of three personal trainers in 1990s Miami who, in pursuit of the American Dream, get caught up in a criminal enterprise that goes horribly wrong. Ed Harris, Tony Shalhoub, Rob Corddry, Rebel Wilson and Bar Paly also star. The film is based on magazine articles by Pete Collins, with a screenplay by Christopher Markus & Stephen McFeely and produced by Donald DeLine, Michael Bay and Ian Bryce.
And, as promised here's a new TV spot.
As well as some new images:
The film opens April 26. What do you think?