Watch 'Everybody Wants To Kill Bruce,' An Action Supercut Assembling Dozens Of Movies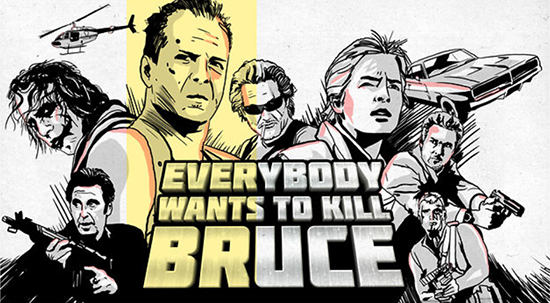 It's tough being an action hero; you've always got a target on your back. That is basically the premise of Everybody Wants to Kill Bruce, which assembles footage from over two dozen movies to create a ten-minute all-star reel in which Bruce Willis flees from danger at every turn. This cut doesn't limit itself to footage from Bruce Willis movies, however. There are bits of Death Proof and Heat in there, among many others. (More than one Back the the Future movie? The Dark Knight? Sure, why not?)
You'll see clips from the Die Hard movies and 12 Monkeys, as well as many more Willis films, but they're all glued together with other action. Props go to the creative use of Kurt Russell's Death Proof character in tandem with 'Testarossa Autodrive (SebastiAn Remix)' from Kavinsky's 1986 EP.
There's not much of a unifying principle here beyond the basic idea. No real plot, and no real commentary implied about how these films all play similarly enough to cut together to some extent. It's really just a fun exercise for action fans. Sad thing is, this scattershot edit is more coherent than some action movies I've seen in the past couple years.
Here's the ten-minute edit, which is NSFW for a bit of sex, and William Sadler's ass. (Not seen in the same scene.)
The Pierre-Alexandre Chauvat page that presents the supercut on Vimeo offers:
When he wakes up one morning, Bruce Willis finds himself pursued by an entire city: or how to give him a hard time in 39 movies ! Don't be mistaken, it's just an action movie ... old fashioned style !
Editor : Pierre-Alexandre CHAUVAT
Sound Mixer : Sylvain Denis