'Epic' Trailer #3: Famous Voices Congregate In A CG Forest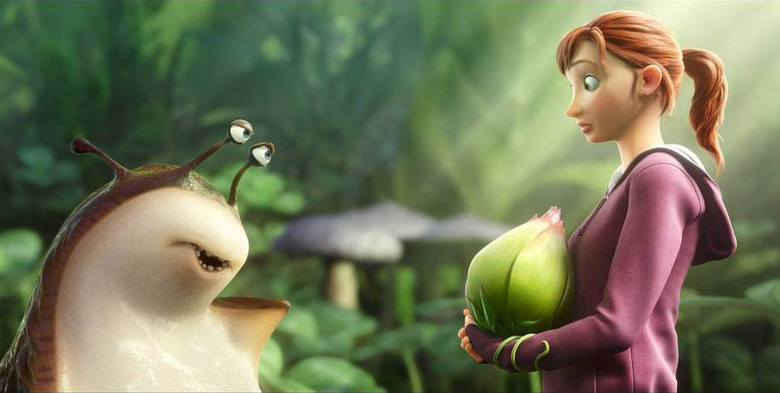 Sure, it's got noble warriors, a vicious villain, a graceful queen, and an old, bitter feud, but the most epic thing about Epic may be the voice cast. Amanda Seyfried leads as Mary Katherine, an ordinary girl who somehow gets shrunk down and finds herself involved in the grand yet very, very tiny battle between the protectors and the destroyers of the forest.
The characters she meets along the way are voiced by the likes of Christoph Waltz, Colin Farrell, Josh Hutcherson, Aziz Ansari, Chris O'Dowd, Blake Anderson, Steven Tyler, Beyoncé Knowles, and Pitbull. Jason Sudeikis voices her father. The latest trailer makes sure the emphasize just how many celebrities have gone into the making of this movie. Watch it after the jump.
[via First Showing]
I get why studios love star-studded casts, but in this case I wish they'd spent a little less of their time and money recruiting these folks and more of it on building up the film around them. While Epic looks pretty enough, its trailers have left me cold so far. It seems to lack the heart and humor that marks the best all-ages entertainments. The premise has potential, but so far I haven't seen any reason to care what happens to Mary Katherine and her forest friends.
Hopefully I'll be proved wrong when the movie lands May 24.
EPIC is a 3D CG action-adventure comedy that reveals a hidden world unlike any other. From the creators of ICE AGE and RIO, EPIC tells the story of an ongoing battle deep in the forest between the forces of good who keep the natural world alive and the forces of evil who wish to destroy it. When a teen age girl finds herself magically transported into this secret universe, she must band together with a rag-tag team of fun and whimsical characters in order to save their world... and ours.