'Sherlock' Season Three Starts Filming Next Week; Will Likely Air Winter 2013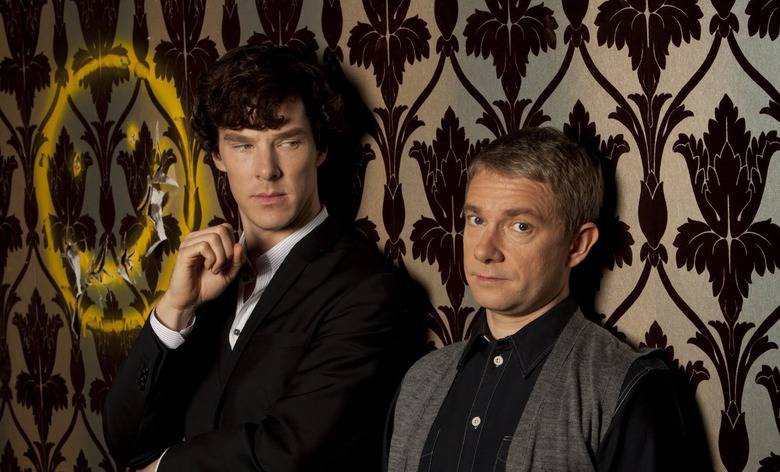 BBC's Sherlock is technically, a TV show. But with episodes that are the length of a film, and two stars, Benedict Cumberbatch and Martin Freeman, who have become major movie actors, the show might as well be a movie. The point being: it takes an unusual bit of scheduling to create.
The second season aired over a year ago in the UK and 10 months ago in the US, climaxing in a major cliffhanger. Since then, thanks in large part to Netflix, more and more people are finding out about this fascinating and entertaining show, and all are anxiously waiting new episodes.
The wait has been long, and will continue to be long, but there's hope on the horizon. The stars are back and the third season will begin filming next week. Read more below.
Deadline reported that the stars of Sherlock had their first read-through this week and shooting will commence next week. That means it will probably air in the UK this winter, which suggests US audiences will probably see it in 2014. No official dates have been set yet.
What has been set is Paul McGuigan, who directed four of the six episodes of the series, has left the show – in large part to direct Frankenstein, starring Daniel Radcliffe. He'll be replaced by Jeremy Lovering (In Fear) and Colm McCarthy (Doctor Who, Ripper Street) for an episode each. There's no word on the third director.
The reason a third director hasn't been chosen is Cumberbatch and Freeman are so incredibly busy, they only have time to film two episodes before a summer "break," which will see each of them head to New Zealand to shoot The Hobbit: There And Back Again, and possibly more. Once that's done, they'll be back for the third, and possibly final episode of the series.
If you haven't caught Sherlock yet, I urge you to check it out. It's some of the best television out there today.