Star Wars Bits: Carrie Fisher Signed For Episode 7? 'Star Wars 1313', 'Star Wars Pinball', 'The Making Of The Empire Strikes Back', George Lucas, Billy Dee Williams, James Earl Jones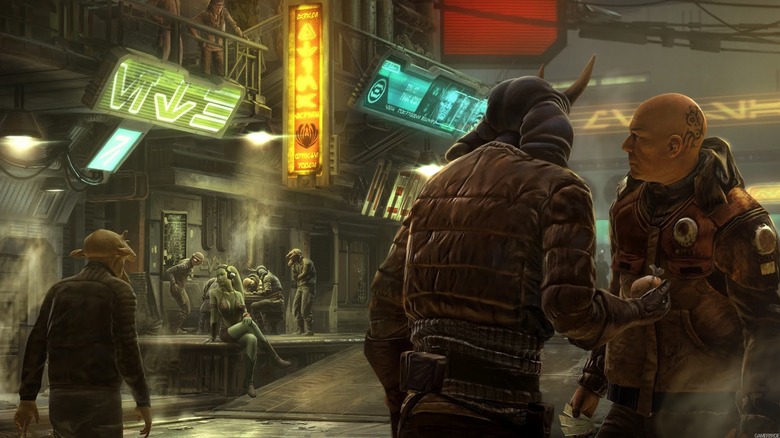 Carrie Fisher gets ready to star in another Star Wars movie, while George Lucas considers the exciting world of museum curating. Also after the jump:
Billy Dee Williams wants in on Episode VII
... as does Darth Vader voice James Earl Jones
Obama doesn't know Star Wars from Star Trek
Disney delays the Star Wars 1313 video game
See a trailer for the Boba Fett pinball table
Watch part of a doc about Empire Strikes Back
What if Michael Haneke directed Star Wars?
"When you see a Rockwell, you see something of yourself in there, no matter who you are, no matter where you came from," he said. While he admits his taste isn't exactly hip, he thinks the art can help children. "I don't see anything wrong with having an idealistic, sentimental, fun point of view, especially for people who are growing up," he said. Watch the five-minute video interview below.
[via The Force]
Carrie Fisher has been rumored to return for Episode VII since the moment the film was announced, and she told fans the talk was true all the way back in November. In a new interview, she confirmed her involvement again, giving a simple "yes" when asked if she'd be back.
Fisher added some thoughts on where she thought the iconic character might be today. "Elderly. She's in an intergalactic old folks' home," she joked. "I just think she would be just like she was before, only slower and less inclined to be up for the big battle."
In fact, she may be too much like she was before. "[Leia still has] the bagel buns and the bikini, because probably she has sundowners syndrome. At sundown, she thinks that she's 20-something. And she puts it on and gets institutionalized." [Palm Beach Illustrated via The Force]
Fisher isn't the not the only former Star Wars actor who want back in. Billy Dee Williams expressed his hope of returning as Lando Calrissian in a recent radio interview. "Well, I'm like everybody else, we're all speculating and we're all wondering," he said. "If they want me to participate, I'd love to participate. I love the idea of keeping the character alive. And I specifically want to keep him alive, as long as I'm alive."
Also eager to reprise his role is James Earl Jones. "I would love to be part of that. David Prowse would return in costume and I would do the voice for David," he said. That would seem to be complicated by the fate of his particular character, but, well, that's what flashbacks are for. [Toronto Sun, The Force]
Barack Obama has won geeks over with his lightsaber battles on the White House lawn and his officially sanctioned responses to Death Star proposals, but the president lost some serious nerd cred this weekend when he got his sci-fi franchises mixed up.
In a confusing mash-up of Star Wars and Star Trek, Obama told press he couldn't "do a Jedi mind meld" with members of Congress to convince them to stop the sequester. Perhaps he was confused by J.J. Abrams' jump from one franchise to the other?
In any case, the slip of the tongue earned exactly as many snarky tweets as you'd expect.
Maybe Obama only confused Star Wars and Star Trek to get the Internet to finally care about sequestration.

— CC:Indecision (@indecision) March 1, 2013
Head to THR for tons more.
Disney's acquisition of Lucasfilm got the ball rolling on a new set of films, but it's also putting the brakes on some other non-cinematic Star Wars projects in development. According to sources, LucasArts has put a hold on Star Wars 1313, the "mature" third-person shooter that garnered strong buzz from fans last summer. The game was originally slated for release in late 2013, but now seems likely to miss E3 and land sometime next year.
LucasArts, for its part, would say only that the game has not been cancelled. "LucasArts has been working diligently to take advantage of the tremendous opportunities that the new Star Wars movies present. Star Wars 1313 continues production," said a spokesperson. [Kotaku]
In other video game news, Zen Studios has released a new trailer for the new Star Wars Pinball tables. Here's Boba Fett:
And here are the Clone Wars:
Eight other Star Wars-themed pinball tables are planned for the series. Star Wars Pinball is available now. More details here.
As we prepare to push into the new cinematic trilogy, here's a good opportunity to look back for a moment at the old one. StarWarsArchives.com has released almost thirty minutes of The Making of The Empire Strikes Back, the "lost" documentary by Michel Parbot. We previously featured fifteen minutes of the film here.
Parbot shot the film back in 1980 but for some reason the full-length documentary has never been commercially released in the U.S. It's a pity — this looks like an insightful and entertaining exploration of one of the most popular movies of all time. [via Comic Book Movie]
J.J. Abrams may already have landed the Episode VII directing gig, but that can't stop us from wondering what another filmmaker might've done with it. Specifically, Michael Haneke. One French fan imagined Star Wars by way of the Oscar-nominated Amour — a nice dig at the franchise's advanced age, perhaps.
Hey, Episode VIII and IX still need directors. Somebody put Haneke on the shortlist.