'Spring Breakers' Red-Band Trailer #2: Twisting The American Dream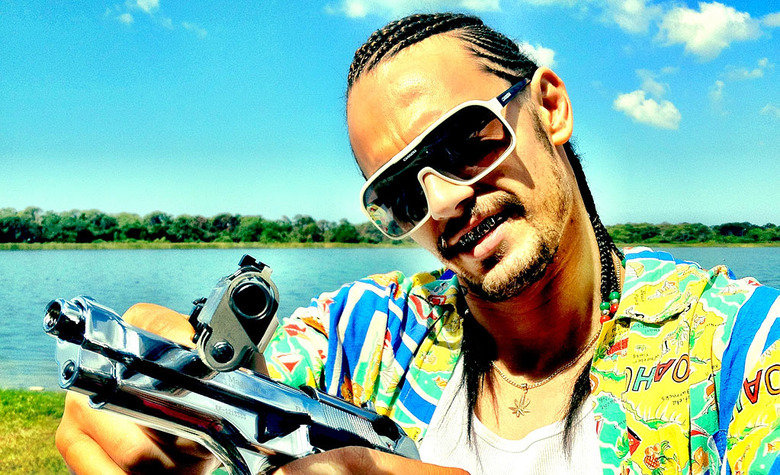 The four bikini-clad, gun-toting hotties at the center of Harmony Korine's Spring Breakers have drawn quite a bit of attention, by virtue of the fact that they're, well, four bikini-clad, gun-toting hotties. (And two of them former Disney gals, no less.) But based on festival reviews, it may be James Franco as Alien you really want to keep an eye on.
Franco's performance is so strong, distributor A24 reportedly even considered giving the film an Oscar-qualifying December release to allow Franco a shot at the big prize. Nothing actually came of that plan, as far as I know, but it's just another indication that Franco and the movie around him will be worth checking out when it finally comes to theaters. The new red-band trailer puts the spotlight on Alien, and you can watch it after the jump.
At first, the bizarre-looking drug dealer just looks like yet another of Franco's endless attempts to out-weird himself. But from the opening lines of the trailer, it's clear he has a strong grasp on who Alien is and what makes him tick. He knows how to talk a good game, but my feeling is that he may have bitten off more than he can chew with his wild new associates (Selena Gomez, Vanessa Hudgens, Rachel Korine, Ashley Benson).
Spring Breakers opens March 15 in New York and Los Angeles, and March 22 elsewhere.
Brit (Ashley Benson), Candy (Vanessa Hudgens), Cotty (Rachel Korine) and Faith (Selena Gomez) have been best friends since grade school. They live together in a boring college dorm and are hungry for adventure. All they have to do is save enough money for spring break to get their shot at having some real fun.
A serendipitous encounter with rapper "Alien" (James Franco) promises to provide the girls with all the thrill and excitement they could hope for. With the encouragement of their new friend, it soon becomes unclear how far the girls are willing to go to experience a spring break they will never forget.