TV Bits: 'Dexter', 'House Of Cards', 'The Killing', 'Happy Endings', 'Up All Night', Jason Blum, Ridley Scott, Neal Stephenson, JK Simmons, Rupert Grint, And More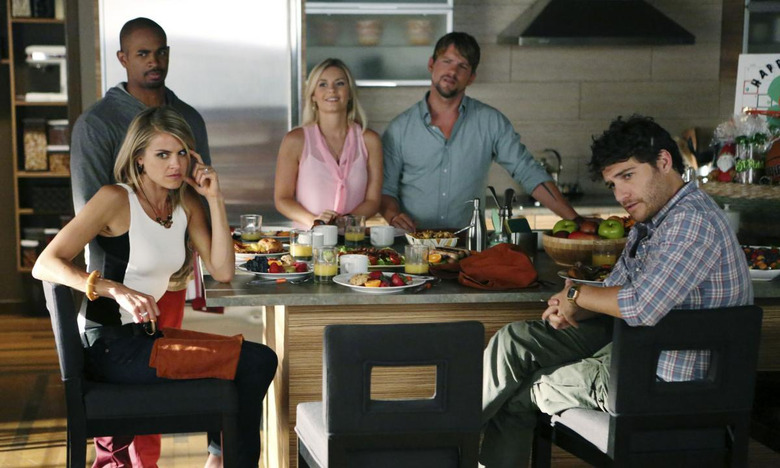 It's pilot casting season! And as such, Rupert Grint, JK Simmons, Dylan McDermott, Billy Campbell, Jennifer Beals, and tons more have found new homes on the small screen. Also after the jump:
Peter Sarsgaard has joined AMC's The Killing
Dexter Season 8 adds a Walking Dead alum
Ridley Scott is bringing The Terror to AMC
The About a Boy duo will tackle Neal Stephenson
FX is moving ahead with Diane Kruger's The Bridge
Up All Night will shoot just one multi-cam episode
ABC shifts Happy Endings to the Friday death slot
House of Cards is Netflix's most-watched program
Comcast buys the other 49% of NBCUniversal
The first episode of The CW's Cult hits the web
Jason Blum's Paranormal-esque reality show gets a trailer
Harry Potter's BFF Rupert Grint will lead CBS' Super Clyde, about a burger flipper who gains superpowers.
JK Simmons will star as a blind father in NBC's untitled DJ Nash project, which also stars Parker Posey.
Jennifer Beals, of The L Word and Flashdance fame, has landed the ABC's Romeo & Juliet-inspired Venice.
Dylan McDermott is trading his Bloody Face mask for an FBI badge on CBS and Jerry Bruckheimer's Hostages.
Billy Campbell will portray a wealthy, volatile lobbyist on Fox's Delirium, set in a dystopia where love is illegal.
Matt Jones (a.k.a. Badger from Breaking Bad) will play Anna Faris' ex-husband on CBS' Chuck Lorre pilot Mom.
Tommy Dewey, last seen on The Mindy Project, has joined Fox's live-action Seth MacFarlane project Dads.
Former Pan Am star Mike Vogel will play an Army vet on a mission in CBS' Stephen King-based Under the Dome.
Moving on to casting updates for existing series: Peter Sarsgaard and Amy Seimetz have signed on for AMC's recently revived The Killing. As previously reported, Season 3 will introduce a new mystery which will be resolved over 12 episodes. Apparently the show's learned something from the whole "who killed Rosie Larsen" debacle.
In his first-ever recurring TV role, Sarsgaard will portray a death-row inmate named Tom Seward who's been in and out of the system since childhood. Seimetz will play a poor single mom whose adolescent daughter goes missing. [TV Line]
Nick Gomez will go from dealing with zombies to facing down cops. The Walking Dead alum is set to play hitman Javier "El Sapo" Guzman on Dexter, which enters its eighth season this fall. The character tangles with the Morgan sibs when Deb gets in the way of his latest target. [TV Line]
'90s kids, rejoice. A Home Improvement mini-reunion is brewing on Tim Allen's Last Man Standing, with Jonathan Taylor Thomas lined up for a guest spot. JTT will play the manager of a restaurant where Kristin (Amanda Fuller) is trying to land a job. He's the second non-Allen Home Improvement alum to appear on the ABC series; Richard Karn played an architect earlier this season. [TV Line]
The very busy Ridley Scott has added another TV project to his plate. The filmmaker is working with AMC on The Terror, a drama series based on Dan Simmons' 2007 bestseller of the same title.
The story takes place in 1847, when a Royal Navy crew in search of the Arctic's Northwest Passage finds a nasty predator waiting for them. David Kajganich, the writer behind the upcoming remakes of Pet Semetary, It, and Creature From the Black Lagoon, is set to script. [Deadline]
About a Boy duo Chris and Paul Weitz are reteaming for a very different kind of literary adaptation. Chris Weitz is attached to write and direct the Neal Stephenson adaptation Reamde, which he and his brother will executive produce.
The series is described as "globally scaled action-adventure with the technology underlying sophisticated role-playing games and interweaving love stories." In more practical terms, it's the story of a kidnapping and the ensuing rescue effort. [Deadline]
FX has ordered thirteen episodes of The Bridge, an adaptation of a Scandinavian crime drama (yes, another one) titled i Bron. Production will begin this spring, with the premiere slotted for July. Diane Kruger and Demián Bichir play detectives from the U.S. and Mexico, respectively, who join forces to track down a serial killer who works along the border. [TV Line]
NBC's troubled Up All Night may not be struggling much longer. Last fall, the network announced an unorthodox plan to switch the show from single- to multi-camera in the middle of its second season. That transition doesn't seem to be going so smoothly. Following the departures of creator Emily Spivey and star Christina Applegate, NBC has just reduced the multi-cam order from five episodes to just one.
At least that lone episode will be bringing on some strong talent behind the camera. Emmy-winning sitcom vet James Burrows has been set to direct. It's unclear at this time whether Applegate will be replaced for the episode. [Deadline]
Also not looking so healthy these days is ABC's Happy Endings. The network has been fussing with the show's scheduling all season, setting it for Tuesdays, then for Sundays and Tuesdays, then for double doses on just Tuesdays. Now they've decided to drop the comedy from Tuesdays altogether.
Starting March 29, Happy Endings will air two back-to-back episodes on Fridays starting at 8:00 PM. Its former Tuesday evening timeslot will be taken over by Celebrity Wife Swap. The time to start your "save the show" efforts is now. [Variety]
The traditional ratings model doesn't really apply to Netflix's House of Cards, so it's been tough to gauge just how well the series is doing compared to those on broadcast and cable television. But according to Netflix's chief content officer Ted Sarandos, it's an unqualified hit.
At the Dive Into Media conference this week, he boasted that the political drama was the service's most-watched title, though he wouldn't offer any actual numbers. "I don't want to give ratings, because it is a real apples-to-oranges comparison with network ratings," he said. That likely won't change anytime soon, either, as Sarandos added that he has "no motivation" to disclose that information in the near future. [AllThingsD via Cinema Blend]
Since January 2011, Comcast has owned 51% of NBCUniversal. Now the company's figuring picking up the other 49% as well, for the low low price of $16.7 billion. The cable provider had always planned to start increasing its stake in the network, but the new buy comes several years ahead of schedule. [HuffPo]
Paranormal Activity's "found footage" not real enough for you? Producer Jason Blum has just the thing. Syfy's Stranded takes real-life participants to a haunted location, and follows what happens via hand-held footage and security camera tapes. Check out the new trailer:
Stranded premieres February 27. [via TV Line]
I really like this trend of releasing pilot episodes online ahead of schedule. The latest to take advantage of that marketing tactic is The CW's Cult, about a TV show whose fans may be a little too devoted. Watch the full first episode below:
Our impressions of the episode from last year's Comic-Con can be found here. Cult makes its on-air debut February 19. [via Cinema Blend]