'Tucker & Dale Vs. Evil' Director For In Talks For 'Zombieland' Show, Amazon Wants To Distribute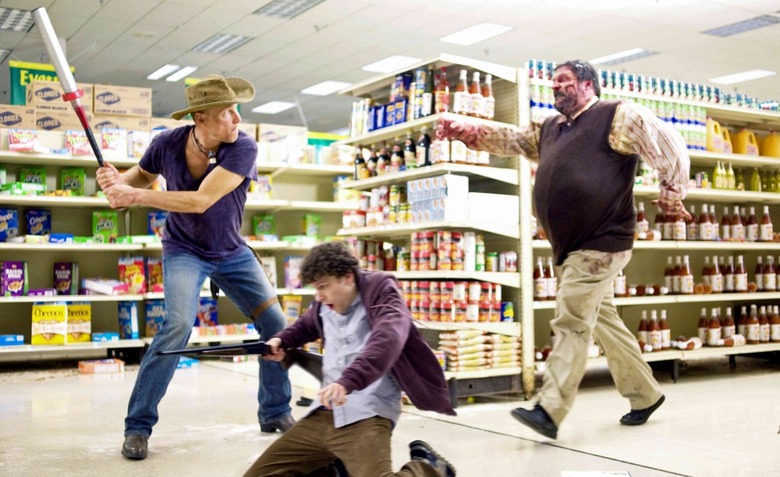 The Zombieland movie sequel may be dead for good, but the TV series is just coming back to life. Last week, we got word that the show was casting for new versions of Tallahassee, Columbus, Wichita, and Little Rock. While there's no news yet on who'll replace Woody Harrelson, Jesse Eisenberg, Emma Stone, and Abigail Breslin in the small-screen version, we've learned that Tucker and Dale vs. Evil helmer Eli Craig is in negotiations to direct. As for where, exactly, we'll see the series, the latest buzz is that Amazon is eager to distribute. More details after the jump.
Film director Ruben Fleischer is not expected to be involved. Instead, Craig will take over at the helm. The filmmaker showed an affinity for gory horror with a sense of humor in his debut feature Tucker and Dale vs Evil, which should make him just about perfect for Zombieland. Especially as Craig considers himself to be a huge fan of Fleischer's picture. "Zombieland was just one of these fun rides," he said. "The first 30 minutes were probably some of the most exciting and humorous action-comedy-horror filmmaking I've ever seen."
Though the original Zombieland was a movie, the switch to the small screen is a return of sorts. Reese and Wernick initially envisioned the concept as a TV series, but CBS eventually passed and Syfy couldn't close the deal to pick it up. Then Fleischer came along and helped turn it into a full-length feature. Last year, Reese, Wernick and Polone tried again to develop the premise for television, this time with Fox, but — obviously — that didn't pan out either.
As of now, Amazon is in talks to distribute Zombieland the TV show via its streaming platform. The online retailer has been making moves toward original programming as of late, and greenlit six comedy pilots last month from Kristen Schaal, Garry Trudeau, The Onion, and more. If Amazon manages to finalize the deal with Sony TV, which will likely result in a straight-to-series order, Zombieland will be its first original scripted series.
Discuss: Will you watch the Zombieland show? Who do you want to see replace the main cast?