Remake Bits: 'Robocop', 'Godzilla', 'Evil Dead', 'The Town That Dreaded Sundown'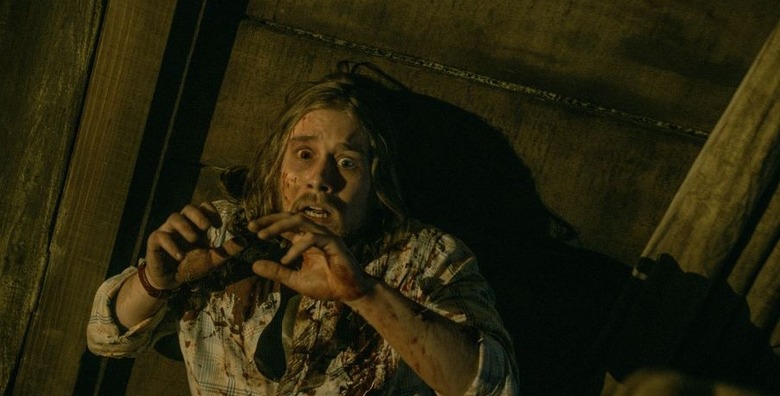 An especially heart-pounding edition of Remake Bits features updates on Evil Dead, Godzilla, Robocop, and more. After the jump:
Frank Darabont talks about the Godzilla reboot
Jason Blum is remaking The Town That Dreaded Sundown
Listen to ten minutes of the Evil Dead score
New pics show the Robocop prototype
What I found very interesting about Godzilla is that he started off definitely as a metaphor for Hiroshima and Nagasaki. And some of the atom bomb testing we were doing in the South Pacific in the subsequent years. The giant terrifying force of nature that comes and stomps the shit out of your city, that was Godzilla. Filtered through the very fanciful imaginations of the Japanese perception. And then he became Clifford the Big Red Dog in the subsequent films. He became the mascot of Japan, he became the protector of Japan. Another big ugly monster would show up and he would fight that monster to protect Japan. Which I never really quite understood, the shift.
What we're trying to do with the new movie is not have it camp, not have it be campy. We're kind of taking a cool new look at it. But with a lot of tradition in the first film. We want this to be a terrifying force of nature. And what was really cool, for me, is there was a very compelling human drama that I got to weave into it. It's not that cliched, thinly disguised romance or bromance, or whatever. It's different, it's a different set of circumstances than you're used to seeing. And that's tremendously exciting as a writer when you're asked to do something else.
Darabont also confirmed that he planned to connect Godzilla to a contemporary issue, but declined to say what it was. Sounds good in theory, though we have a ways to go before we can see how it works in practice. Godzilla still in the casting stage and won't hit theaters until 2014. [io9]
Paranormal Activity producer Jason Blum has been treated remarkably well by the current found-footage horror craze, so for one of his next projects he's looking back at a precursor to the trend. Blum has teamed with Ryan Murphy for a remake of The Town That Dreaded Sundown, the horror cult classic by Charles B. Pierce. Alfonso Gomez-Rejon (Glee, American Horror Story: Asylum) is in talks to direct from a script by Carrie remake writer Roberto Aguirre-Sacasa.
The low-budget remake will combine the cinema verite style of the original with procedural elements a la Zodiac. The 1976 film centered around a string of murders in Texarkana in the '40s, but Murphy describes the new movie as "a modern-day version remake," with a "weird meta" angle. Production is aiming for a spring start. [THR]
The red- and green-band trailers for Fede Alvarez's Evil Dead offered plenty of scares, and now a ten-minute snippet of the score by Roque Banos has arrived to help set the tone. Listen to the two tracks below:
Sound spooky enough for you? Evil Dead opens April 12. [via Bleeding Cool]
Thanks to all those Robocop set photos, we have a pretty good idea of what post-op Alex Murphy (Joel Kinnaman) will look like. However, the latest images offer something a little different. According to GeekScape, the first of the two photos below shows off the EM-208 humanoid drone, which serves as a prototype to Murphy's ED-209 model. The other, Geeks of Doom speculates, appears to be the Robocop suit in "combat mode."
[Images removed at the request of MGM]
Directed by José Padilha, Robocop hits theaters February 7, 2014.