Toby Jones Returning For 'Captain America: The Winter Soldier'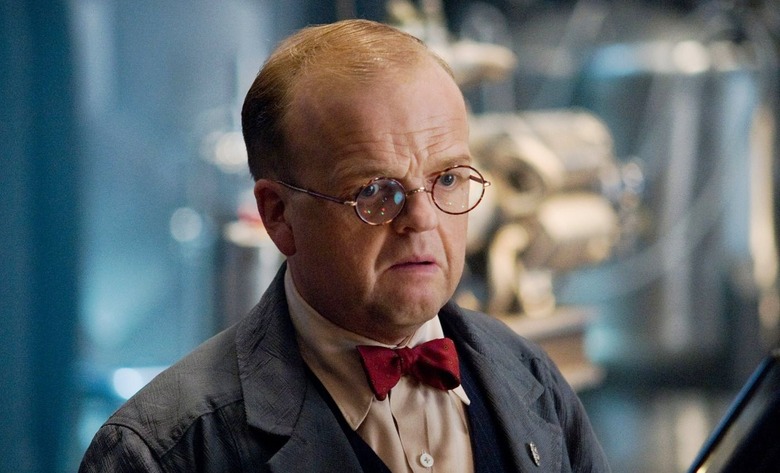 While it's typical for film franchises to keep the same stars between installments, the big time jump between Captain America: The First Avenger and Captain America: The Winter Soldier makes retaining the cast a trickier proposition. But thanks to the power of flashbacks and comic book science, it's not an entirely impossible one.
So far, Chris Evans and Sebastian Stan have been set to reprise their roles. Now they're also being joined by Toby Jones. In a recent interview, the Brit actor confirmed that he'd be reprising the role of villainous Arnim Zola. Hit the jump to keep reading, but be warned that spoilers for The First Avenger and speculation about The Winter Soldier follow.
In The First Avenger, Zola was a HYDRA scientist who worked with the Nazis (led by the Red Skull) to harness the powers of the Tesseract. He's captured by the good guys at some point, though Bucky (Stan) dies in the process, and gives away crucial information that allows Captain America to stop a devastating attack on America.
The Winter Soldier picks up decades after The First Avenger, which raises the question of just how we'll get to see Zola again. The most obvious possibility is that we'll be seeing him in flashbacks. However, the character's comic book history hints at another, stranger potential arc. In the books, his experiments included a robot body into which he could transfer his consciousness. Could we be looking forward to the box-headed version of the character? Probably not, but it's fun to wonder.Captain America: The Winter Soldier will be based on the celebrated Marvel Comics storyline of the same title. In addition to returning stars Evans, Stan, and Jones, Frank Grillo is on board to play Crossbones, while Anthony Mackie will play Falcon. Hayley Atwell is not returning as Peggy Carter, and a new female lead is currently being sought. Anthony and Joe Russo are directing the film, which opens April 4.