First Look: 'Cloudy With A Chance Of Meatballs 2's Fruity Jurassic Park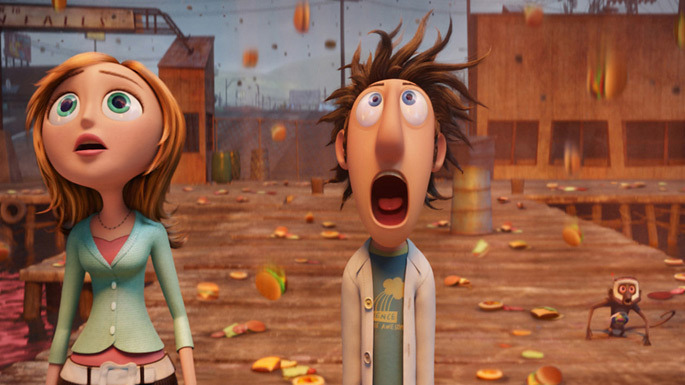 The cheeseburger rainstorms may have ceased for now, but Flint Lockwood's battles with food are far from over. In this fall's Cloudy With a Chance of Meatballs sequel, Flint (Bill Hader) continues to deal with the consequences of his malfunctioning FLDSMDFR device when he discovers that it's created a new race of food-animal hybrids — or "food-imals," in the first of many groanworthy (but secretly hilarious... or not? Just me?) puns.
Initially, Flint and his girlfriend Sam Sparks (Anna Faris) are in awe of the lush, colorful creatures. But then, so were the characters in Jurassic Park with their dinosaurs, and we all know how that ended. Before long, the food-imals are threatening to take over entirely, and it's up to Flint and Sam to save the town again. See the first images from the film after the jump.
The first picture below shows the food-imals at their watering hole — surrounded, of course, by ham hock and corn hills — while the others highlight individual species. Each of them has its own silly name, so mouse over the images to find out what they're called.
Not pictured: shrimpanzees, tacodiles, and french-fry-legged bacon cheesespiders.
We already know the basics of the plot, but USA Today fills in a few more of the details. Picking up just a short while after the first film left off, Flint Lockwood (Hader) is enjoying an improved relationship with his father (James Caan) and a wonderful romance with his now-official girlfriend. In addition, he's scored a job working with his idol, Chester V (Will Forte) of the Live Corp Company.
More challenges await him, however, when he has to rescue his hometown from these food-imals. "That island is kind of like Jurassic Park," Hader explained to the publication. Here's hoping for Flint's sake that the flamangos and wild scallions are a little less bloodthirsty.
Cloudy With a Chance of Meatballs 2 hits September 27.
In the wake of the disastrous food storm at the end of the first movie, Flint Lockwood and friends are forced to leave their town of Swallow Falls. But when it is discovered that sentient food beasts have overrun the island, they are asked to return to save the world...again.
Discuss: Do the food-imals create a moral quandary for vegetarians? Technically, they're plant life, but I think they're sentient like animals...