Legal Troubles Could Complicate Disney's 3D Post-Conversion Plans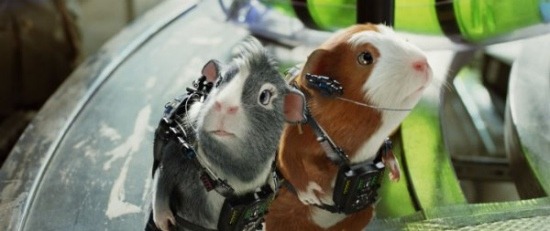 When people talk about 3D movies, the debate is typically oriented around the divide between native 3D and 3D post-conversion. Native 3D is believed to be better, but conversion gives the filmmakers more options on set. The problem is that conversion can be a more complicated, time consuming process. If done poorly, it can really be distracting and awful.
As if that wasn't complicated enough, Disney is leading the charge against a new legal action which could leave them open to lawsuits for future 3D conversions. The patent for 3D conversion was secured by a company named In-Three, which was then bought by Digital Domain, a company founded by James Cameron in 1993. Digital Domain declared bankruptcy last year, and many of its assets were sold to Galloping Horse America and Reliance MediaWorks.
That sale didn't cover all of Digital Domain's debts, however, and Digital Domain now hopes to sell that 3D conversion tech, which remains among its most valuable assets. So the keys to that 3D conversion tech could now land in new hands.
Disney believes, if certain measures aren't taken, the new owners could sue them any time they attempt to do a 3D conversion, which might mean that some 3D conversions would have to stop — 3D conversions such as ones that are in the works on movies like Iron Man 3, Thor: The Dark World and potentially many others. Read some more details below.
The nuts and bolts of this situation are detailed at The Hollywood Reporter but here's a simplification.
It all comes down to "The G-Force Agreement." Disney first used the In-Three technology on three movies: G-Force, Alice in Wonderland and Tron: Legacy. With those films, a contract stipulation was put in place that said if the patent was to change hands, they'd wouldn't be charged and couldn't be sued for using their product. That stipulation, however, didn't talk about projects going forward and a judge recently ruled that Disney could be held financially responsible going forward for using the In-Three technology to convert films to 3D.
Disney filed an "emergency stay" of that order and now has to wait to see if things will change. They have 45 days.
Complicated legal matters like this usually get figured out. There's simply too much money at stake for these companies and even if there's some sort of settlement, Disney will likely get their way. But on the off hand they don't, and the current patent holder is allowed to sue Disney for any future 3D conversions – especially ones that have already begun – it could be a huge deal moving forward.
For much more detail head over to The Hollywood Reporter.