Wes Anderson Confirms Tilda Swinton And Harvey Keitel For 'The Grand Budapest Hotel'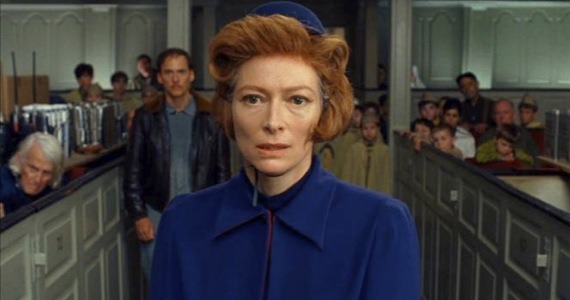 It's been a fine year for Wes Anderson, as his film Moonrise Kingdom did well commercially, and has landed on many year-end top ten lists, and stands as a big awards contender. As the promotion for Moonrise Kingdom winds down, Anderson is looking forward to his "Euro movie" The Grand Budapest Hotel, which stars Ralph Fiennes as the composed concierge of the titular hotel, and also features Anderson regulars such as Bill Murray, Owen Wilson, and Jason Schwartzman.
While the film lost Johnny Depp as a lead (replaced by Fiennes), there have been rumors that some of the Moonrise Kingdom supporting cast that wasn't previously part of Anderson's informal stock company would take part in the next picture. Now Anderson has confirmed several of them, and revealed the participation of a few other actors, such as Quantum of Solace villain Mathieu Amalric.
THR has a fine career-spanning interview with Anderson, in which the director discusses his early filmmaking days, including the way that the surprise opportunity to make Bottle Rocket as a feature came about, and how his company of regular collaborators developed.
At the end of the interview Anderson is asked about his next film, and in talking about the cast he confirms a few names that have been rumored for the film, and mentions a few new ones. Specifically, he says,
Well, yes, it's Grand Budapest Hotel. It's a Euro movie. It's a period picture. I can tell you the cast—maybe you already know the cast, but I can tell you properly who it is: We have Ralph Fiennes, and we have Tilda Swinton and Jeff Goldblum, Willem Dafoe, we have F. Murray Abraham and Jude Law, and we've got Adrien Brody, Edward Norton, Harvey Keitel, Jason Schwartzman, Bill Murray, and Mathieu Amalric. And I think Owen is gonna have a little part, too. Oh, Saoirse Ronan has quite a big part. I'm thinking if I've forgotten anybody. Yeah, we have a good group.