Judd Apatow And Ben Stiller Tried To Make A Rolling Stones Concert Comedy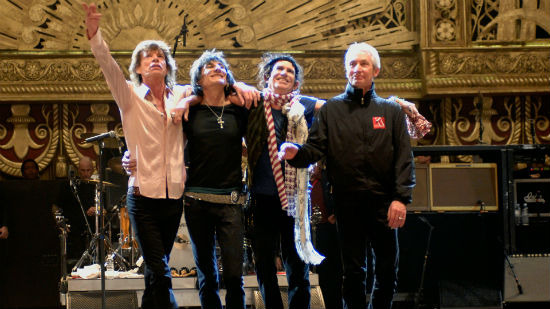 The Rolling Stones have never shied away from the camera. With films like Gimme Shelter and Shine a Light, they've frequently let their on-stage performance be documented for all to see. But they're also smart enough to know concert documentaries have a limited commercial appeal. So back in the early nineties, they came up with the idea of making a concert movie with a scripted story between the songs.
A script was written, the band approved it, but eventually the studio pulled the plug. And while that's sad on its own, the saddest part is that the script was written by Ben Stiller and Judd Apatow, two men who'd go on to conquer the world of comedy in Hollywood.
On the recent press tour for his new film This is 40, Apatow talked about the experience. Read his quotes below.
The info came from an interview with Pitchfork (via The Playlist). Here's Apatow:
Many years ago, Ben Stiller and I wrote a movie for the Rolling Stones — this was back in 1993 or so. They wanted to do a concert film where there was a storyline going on in between the songs, so Ben and I wrote a script. We had to pitch the movie to all of the Rolling Stones, so they could decide whether they wanted to do it or not. Can you imagine something more terrifying than looking Keith Richards in the eye and pitching a movie that goofed on his band? [laughs].  But they approved the idea.
Stiller and Apatow would go on to collaborate on some great work: The Ben Stiller Show, The Cable Guy, Anchorman, Freaks and Geeks, so it's not exactly shocking that the Stones approved of their script. What is shocking is that Universal shelved the project. Apatow didn't give any details about that, but he did share one awesome anecdote from the research stage:
At the time, they were rehearsing for their Voodoo Lounge tour in a high school gym in Toronto, and they told us we could watch. So Ben and I got to watch them rehearse for several hours. We were the only people there, and we were literally eight feet from them. The best moment of my life as a rock fan was when Mick Jagger walked over to Ben and I and said, 'You guys OK? Can I get you a glass of water?' I turned around and said, 'Never forget this moment — this will never happen again.'
The Stones are still as popular as ever and Stiller and Apatow have more clout than ever. The last time Apatow mentioned an old project of his, it got made, so maybe that was his thought process mentioning this story. I know I'd pay to see it.
Would you be up for a Rolling Stones mockumentary/concert film written by Ben Stiller and Judd Apatow? Why did I even ask that question?