Theme Park Bits: 'Harry Potter' Cast Shooting New Footage For Wizarding World Expansion, First Look At James Cameron Working With Imagineers On Disney's 'Avatar Land'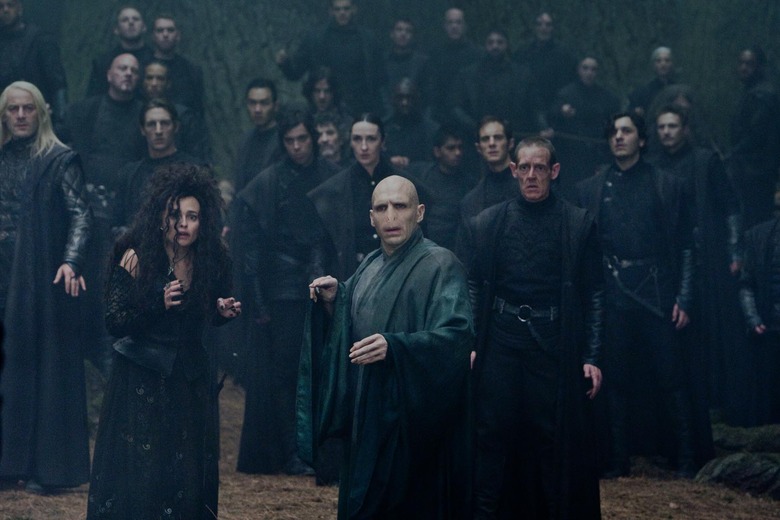 The Wizarding World of Harry Potter at Universal Studios in Orlando, Florida (and soon Hollywood, CA) has upped the ante for what a movie themed theme park can be and they're not stopping there. According to reports, actors from the Harry Potter franchise have been asked to reprise their roles from the films to shoot new footage for the currently under construction Wizarding World expansion in Florida.
Not to be outdone, Walt Disney World has begun work on Avatar Land, based on the James Cameron film. Not only did some blueprints leak in the last few weeks, now an image has surfaced showing the filmmaker working with Disney Imagineers. Check out info on both these theme part bits below.
The Sun newspaper in England (via IGN) reports that the Harry Potter actors are together filming a 9th film. Which is pretty misleading. First of all, the only actor they confirm by name is Helena Bonham Carter. Second of all, if she's there, Bellatrix Lestrange is a kind of secondary character so it seems likely they're filming a ride where the visitor has to get away from villains. If that's the case, the odds Daniel Radcliffe, Rupert Grint or Emma Watson have one again put on their wizard robes is probably low. Anything is possible though. Here's one quote:
The shooting schedule is nowhere near as long as the films, so though filming has been intense, the stars have enjoyed being able to pop in and out.
Head there to read more about the "mini-movie" being shot for the expansion of The Wizarding World of Harry Potter, but details are scarce.
Details are also scarce about the latest on Avatar Land, a new section of Disney's Animal Kingdom at Walt Disney World in Orlando Florida. Some might not even believe that it's still happening. It is.
At a recent media event (reported on by The Disney Blog) Walt Disney Imagineering VP Bruce Vaughn revaled the following photo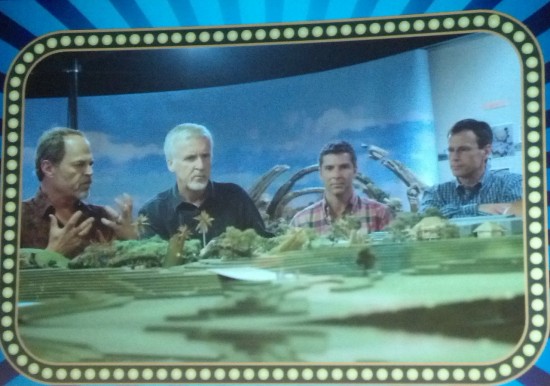 That's James Cameron pouring over some models with Imagineers. Vaughn also said the image was from "relatively early in the design process and that it has changed a couple of times since then." So it's probably not worth blowing up and exploring. But then again, isn't that the fun of it?
The Harry Potter expansion and Avatar Land are both expected to open by the end of the decade. Hopefully sooner.