'Pain & Gain' Poster: Michael Bay's Mean American Dream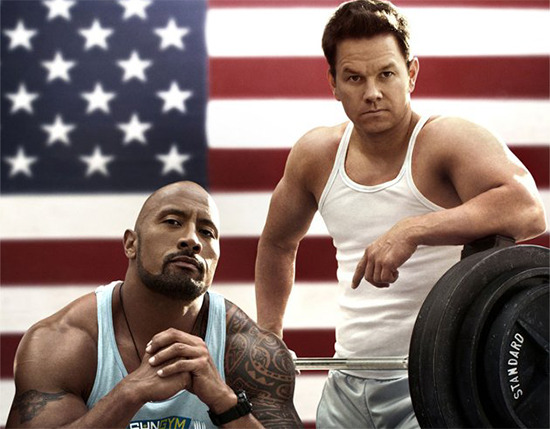 Michael Bay is spending his time in between Transformers making a film based on the true story of Miami bodybuilders who kidnapped a guy in order to make some easy money, and ended up enmeshed in a cycle of torture and murder.
And yet, on the poster for the movie, Dwayne 'The Rock' Johnson and Mark Wahlberg look like pretty OK guys. They're the leads of Pain & Gain, and as such are the two guys who start that violent get rich scheme. We know things go wrong in the movie eventually — there's a photo of the Rock doing things with a human body part that you don't see all that often — but based on this poster you'd never know it.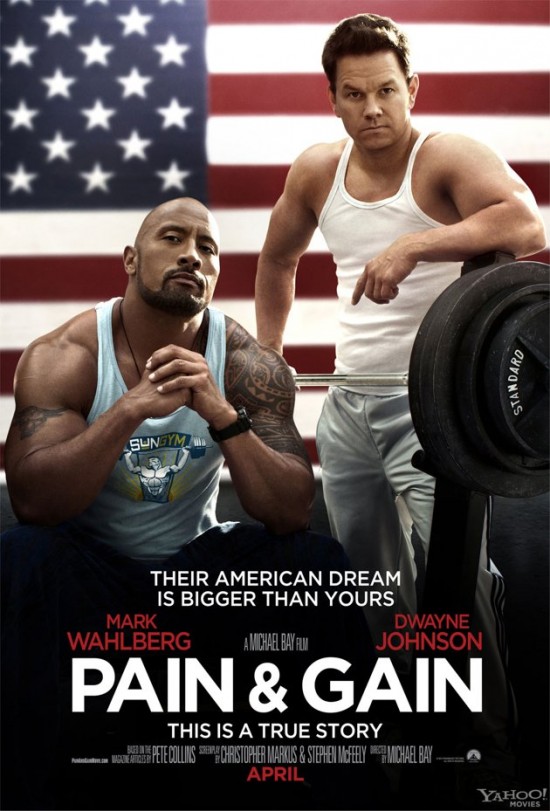 Yahoo has the poster. Rebel Wilson, Ed Harris, Anthony Mackie, Rob Corddry, Ken Jeong, Tony Shalhoub and Kurt Angle are also featured in the film.Pain & Gain releases in April 2013, but I wonder if it might have a soft premiere at Harry Knowles' Butt-Numb-a-Thon this weekend in Austin. I'm not going to BNAT, but I know that once people emerge into the sun on Sunday afternoon, they will have seen a couple new films that most audiences haven't had a chance to see yet. If I had to make a short list of possible options, Pain & Gain would be on there.
From acclaimed director Michael Bay comes "Pain and Gain," a new action comedy starring Mark Wahlberg, Dwayne Johnson and Anthony Mackie. Based on the unbelievable true story of three personal trainers in 1990s Miami who, in pursuit of the American Dream, get caught up in a criminal enterprise that goes horribly wrong. Ed Harris, Tony Shalhoub, Rob Corddry, Rebel Wilson and Bar Paly also star. The film is based on magazine articles by Pete Collins, with a screenplay by Christopher Markus & Stephen McFeely and produced by Donald DeLine, Michael Bay and Ian Bryce.