Exclusive Images: 'Sundance Film Festival A To Z,' An Art Book Commemorating The Fest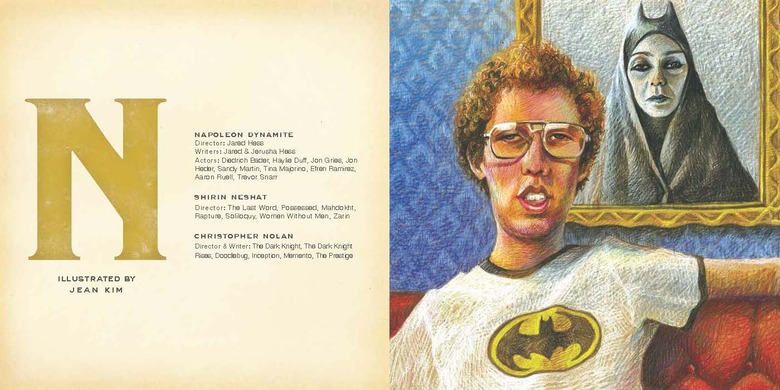 Quantifying the importance of the Sundance Film Festival is difficult. Every year, films screened there become classics, and are made by filmmakers who become legends. Just look back to past years for proof: Saw, The Blair Witch Project, Donnie Darko, 28 Days Later, Napoleon Dynamite, Memento, Bottle Rocket, Clerks, Reservoir Dogs and The Usual Suspects all premiered at Sundance.
This year, in a valiant attempt to commemorate the Festival's magnitude in a format that fits the palm of your hand, artist Todd Oldham has edited an art book called Sundance Film Festival A to Z. Inside, each letter of the alphabet is tackled by a talented artist whose task was to combine several iconic Sundance people, films or events, linked by a single letter, into one image. For example, take the letter N, shown above. Artist Jean Kim combined Napoleon Dynamite with Christopher Nolan (along with Shirin Nesat) for a very cool image.
After the jump, we're happy to exclusively debut four pages from the book, as well as show you four others.
Below are eight pages from the 26 page book. The letters D, P, Q and J are exclusive for /Film.
Here's the press release for the book, which will be available on December 17 at sundance.com/store. For more, read this interview with Oldham. And of course, next month, keep refreshing /Film for daily updates live from Park City and the 2013 Sundance Film Festival.
 An art book titled Sundance Film Festival A to Z will feature the work of 26 renowned illustrators reflecting their own interpretations of Festival films and artists representing each letter of the alphabet. Artists confirmed to contribute designs for the art book include Wesley Allsbrook, Morgan Blair, Chris Buzelli, Marcos Chin, Sam Wolfe Connelly, Alison Dubois, Daniel Fishel, (PLC) Jessica Grindstaff & Erik Sanko, Caitlin Heimerl, Patrick Hruby, Ricky Katowicz, Jean Kim, Greg Kozatek, Kevin Laughlin, Hillary Moore, Chris Silas Neal, Robyn Ng, Victo Ngai, Michele Romero, Yuko Shimizu, Dadu Shin, Armando Veve, Aaron Kent Warder, Jing Wei, JooHee Yoon and Bill Zandel with cover illustrations by Wayne White.
Oldham said, "I find independent film to be endlessly inspiring, and the Sundance Film Festival has provided a platform for many of the most creative and prolific films and filmmakers of the past three decades. It is my pleasure that the bag collection, made from recycled banners from prior Sundance Film Festivals, helps to raise funds for Sundance Institute, an amazing organization that protects and supports the future of original storytelling."
Keri Putnam, Executive Director of Sundance Institute, said, "Sundance Institute is known for supporting and collaborating with artists of great vision, and Todd Oldham is one such artist. We are honored that he has brought his signature style to our products, and we look forward to seeing these designs on the streets – and in the theatres – at our Festival.