'Girls' Season 2 Trailer: "This Is What Happens When You Break Up With A Sociopath"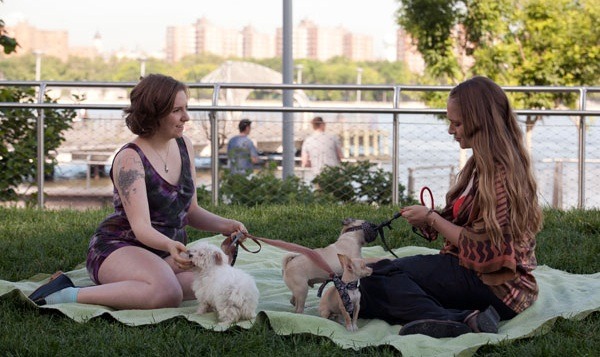 As devotees of Louie and Sherlock are sighing over extralong gaps between seasons, Girls fans are enjoying some schedule shuffling in the opposite direction. Although the first season of Girls debuted in the spring, Season 2's kicking off a little earlier than expected in January 2013. Which means the marketing push starts now.
HBO's already offered up a not-terribly-revealing teaser and a handful of stills from the upcoming season. Now they're ramping up the campaign with the first full trailer, which features a nice mix of fresh and familiar faces. Hannah (Lena Dunham) and her usual gang are all here, along with returning guest stars like Jorma Taccone and Chris O'Dowd and newcomers like Donald Glover, Patrick Wilson, and Rita Wilson. Watch it after the jump.
As the saying goes, the more things change, the more things stay the same. The central characters are in very different places than they were a year ago: Hannah's gone from moping over "a guy who treats my heart like monkey meat" to hooking up with the likes of Wilson and Glover, Marnie (Allison Williams) has totally lost her way after breaking up with Charlie (Christopher Abbott), and so on.
Yet the characters themselves haven't changed that much. Hannah's still tragically oblivious, Shoshanna (Zosia Mamet) is still a delightful spaz, and Adam (Adam Driver) still harbors an unreasonable hatred of shirts. All of which means there's bound to be plenty more awkwardness coming our way in Season 2.
Girls returns to HBO Sunday, January 13 at 9:00 PM.Discuss: Are you looking forward to the new season? Personally, the plotline I'm looking forward to most is Ray and Shoshanna's hookup / relationship / whatever it is. There's a really weird chemistry between the pair that just works.