Trivia: Christopher Nolan Met With Heath Ledger For The Lead Role In 'Batman Begins'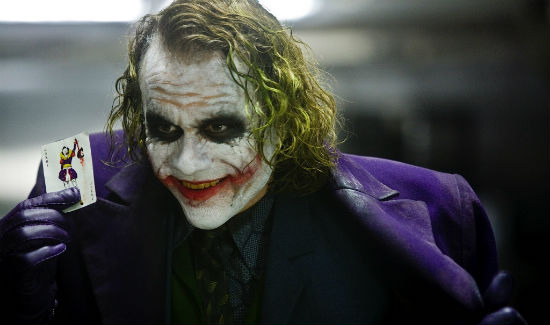 With one Batman trilogy over and a new set of films likely to begin, the idea of casting the character has once again become a well-discussed subject. The name that keeps popping up is Joseph Gordon-Levitt (for good reason), but before Warner Bros. finally decides to cast a new actor in the cape and cowl, they'll surely have met with plenty of people.
The last man tasked with casting Batman was Christopher Nolan and his eventual choice, Christian Bale, has long been praised for his work in the role. But back before 2005's Batman Begins, Nolan met with lots of actors to discuss the role, and one of the actors was Heath Ledger. At the time, Ledger politely told Nolan he'd never do a superhero movie, only to change his mind a few years later to play Batman's nemesis, the Joker, in 2008's The Dark Knight. The now-iconic role won the actor a posthumous Oscar.
What made Ledger change his mind and what was discussed at that meeting? Read Nolan's quotes and more after the jump.
Nolan discussed this interesting bit of trivia at a recent New York City Q&A and Hitfix reported on it.
Nolan had met with Ledger early on when he was putting together "Batman Begins" because he was meeting with most young actors in Hollywood at the time. And Ledger politely explained to the director why he would never be involved in a comic book film. Nevertheless, Nolan presented his goals to the actor, then set out to make the film.
Ledger was apparently impressed with the realistic, gritty results of Nolan's effort and when it came to the sequel, Nolan met with the actor about playing the Joker. Not only was was he interested, Ledger signed on before Jonathan Nolan finished the first draft of the script. Here's Chris Nolan:
He didn't like to work too much. He liked to do a character and then stop working and let enough time go by until he was hungry for it again. And that's what happened when he came in; he was really ready to do something like that.
Read more from what sounds like an awesome event over on HitFix. Can you even imagine what a Heath Ledger Batman could have been?