Star Wars Bits: Carrie Fisher Speculates On Leia's Future; Ben Affleck Doesn't Want To Direct; Lucasfilm Wants To Make 2-3 Films A Year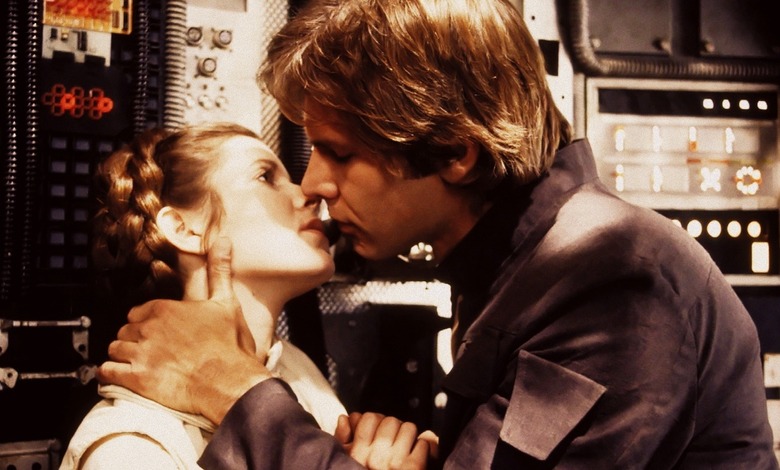 We've got a few Star Wars-related odds and ends to kick off your afternoon. After the jump:
Carrie Fisher jokes about what Leia and Han's life might've been
Ben Affleck is glad he doesn't have the Star Wars directing job
Robert Pattinson likes Jar-Jar, would totally play him if asked
Lucasfilm head wants to make two to three movies per year
Fisher then jokingly speculated about what Leia and Han's life together might've been like. "I like the idea of being Mrs. Solo, and we've just fought and fought and I killed him — but I'm sorry. I feel bad," she said. "I probably had an affair with some general."
Watch the video below:
[via EW]
Here's another name for the "not interested" column. At the GQ Men of the Year party, Ben Affleck expressed his disinterest in the Star Wars directing job. "I'd be too busy worrying about how the action figures would look for each character to direct the actual movie," he joked. "I'd be like, 'Oh, we'll just reshoot the movie with the action figures.'"
When the interviewer asked about the possibility of J.J. Abrams directing, Affleck got a little more serious about the qualities a Star Wars director should have — and why he's relieved the job's not his:
J.J. [Abrams] would kill it, he would crush it, he's spectacular, but he would be great at anything. There are a lot of good directors out there. Naturally I would be inclined to get somebody who's great at telling stories. You're never going to be able to recapture the story that was the initial three, because it's so legendary and iconic. I don't know, I'm glad I don't have that job. It's a tough decision to make.
But Affleck's looking forward to enjoying the movies as an audience member. "I think it's a very cool thing and I'm excited to go see the movie," he said.
Here's the full video interview:
Get More:
Ben Affleck, Movie Trailers, Movies Blog
[MTV]
Robert Pattinson's already starred in The Twilight Saga and appeared in the Harry Potter series. Could another juggernaut franchise be in his future? We haven't the faintest idea if anyone's actually thinking of casting Pattinson in a Star Wars movie, but prompted by an interviewer, Pattinson acknowledged that he'd happily sign on if asked. "Oh, absolutely. In a heartbeat," he said.
And there's no character, apparently, that Pattinson wouldn't be willing to play. He even 'fessed up to liking the series' most reviled character. "I actually kind of like Jar-Jar," he admitted. "I don't understand what the big deal is about Jar-Jar."
Click over to Gulf News to read the full interview, in which Pattinson seems to not understand what a franchise is.
Entertainment Weekly's latest issue is all about Star Wars, specifically the future of the franchise. And while concrete details are tough to come by right now, Lucasfilm head Kathleen Kennedy revealed to the publication that the plan is for the company to produce "two or three films a year."
Now, that doesn't (necessarily) mean two or three Star Wars movies a year. Lucasfilm also owns Indiana Jones and a handful of other properties, or they could turn their attention to original material. But you can count on Star Wars being a chunk of it, which raises the question of whether we might see Star Wars spinoffs beyond just Episodes VII-IX. Is a Pixar version too much to ask for? (Probably.) [via Kotaku]